COUPONS
15 National Beer Day Coupons, Deals and Freebies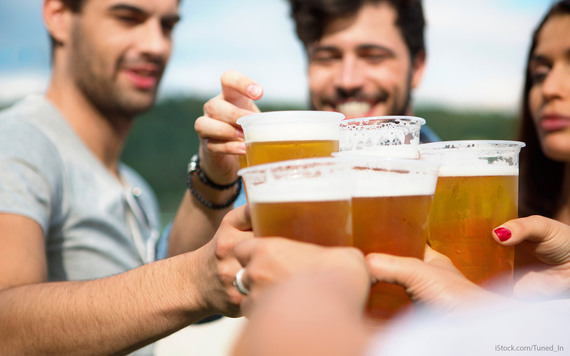 By Andrew DePietro, GBR Staff Writer
Thursday, April 7, marks the celebration of National Beer Day 2016. Most Americans honor this holiday by hitting the bars, brewing their own beer at home and anything else that serves as an excuse to drink.
National Beer Day isn't just a holiday about drinking beer, though: It commemorates the end of Prohibition in the U.S. President Franklin Roosevelt signed the Cullen-Harrison Act on March 23, 1933, ending the 13-year ban on alcohol. Though the law didn't go into effect until April 7 that year, anxious revelers lined up outside breweries on the night of April 6 — now called New Beer's Eve.
Visit GOBankingRates for deals, discounts and freebies from the top retailers >>>
Americans still love to drink beer, spending an average of $1,270 on it every year, according to Survey Analytics. But have no fear, beer lovers: National Beer Day doesn't have to cost you an arm and a leg. With the help of Slickdeals andCouponSherpa — and plenty of beer discounts, sales and happy hours — celebrating just got a little easier on your wallet.
National Beer Day: Beer Coupons and Happy Hour Drink Specials
Houlihan's: Domestic draft beers start as low as $2 and craft beer drafts just $3 during happy hour. Prices and hours vary by location.
Chili's: Get a large draft beer for $3.50 during happy hour from 4 p.m. to 7 p.m. Select drafts only.
Applebee's: Take advantage of half-off drink specials, including $3.25 for tall domestic beers, offered during happy hour from 3 p.m. to 6 p.m. and 9 p.m. to close.
Buffalo Wild Wings: During happy hour from 2 p.m. to 7 p.m., domestic draft beers are only $3 and craft beers start as low as $4. Prices and hours might vary by location.
Ker's WingHouse: Enjoy $2 pints of Coors Light and Miller Lite beer and $4 pints of any craft beer. Additional drink specials for National Beer Day include bottle buckets of domestic beer for $13.94 and craft beer for just $18.94.
Uno Pizzeria & Grill: For a limited time, get an individual deep dish pizza and any draft beer for $10 with this printable coupon until April 7.
Grand Central Terminal: Celebrate National Beer Day at Grand Central in New York City. Shops and restaurants including Michael Jordan's The Steak House N.Y.C., Shake Shack, and more are all offering beer discounts and specials at the Grand Central location on April 7.
Infographic: How Much Are You Spending on Beer?
National Beer Day: Beer Sales for Drinking at Home
Craft Beer Club: Get free shipping and a bonus gift with any Craft Beer Club order until April 8.
KegWorks: Save on beer merchandise with 20 percent off bottle openers and cap catchers when you use promo code CAP20 until April 12.
Spencer's: Use coupon code OLOGY20 to get 20 percent off a single item, including beer pong sets, floats and tables.
BPONG: Save 5 percent on your purchase for a limited time with code BPONG5 until April 7.
Wear Your Beer: Use coupon code SPRINGSALE20 to save 20 percent off the Top 50 Picks beer apparel for a limited time.
National Beer Day: Home Brewery Discounts
Northern Brewer: Celebrate National Beer Day at home when you save $60 on a Brew Share Enjoy Homebrew Starter Kit. The kit also includes a coupon code to take 20 percent off your next purchase.
Kegerator.com: Bring National Beer Day to you by purchasing a metal homebrew keg and get $10 off select homebrew kits.
Mr. Beer: Save up to 30 percent off Brewmaster Select Special Offers until June 30. No code required.
Now that you've decided where to go drinking on National Beer Day — and how to save while you're at the bar and at home — it's time to brush up on some beer history.
["source-huffingtonpost"]