CLOTHING
The Best Ethical Clothing Brands Out There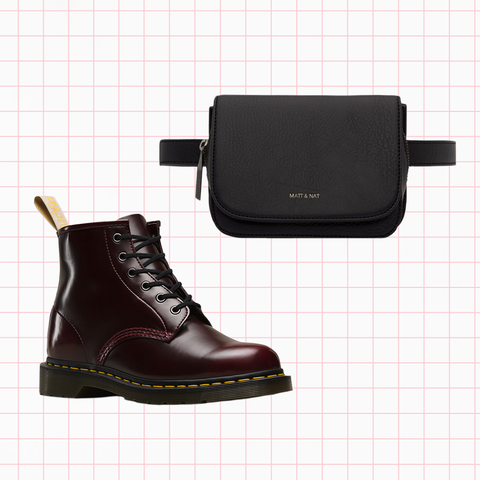 Vegan clothing—it's a hot topic, but what does it even mean? Basically: Vegan clothing enthusiasts don't wear any kind of clothing items that contain leather or animal skin, wool or animal hair, or fur, down, silk, or any other material that comes from or is tested on animals. A more comprehensive what-to-look-for list in on PETA's website, but cotton, polyester, nylon, linen, and hemp are just a few examples of vegan materials.
I happen to be moving my wardrobe to vegan for a variety of reasons, the biggest being that I've been allergic to animal hair and fur since I was a kid. Luckily, these days there's much more variety. The vegan clothes and shoes I buy look just like the real thing, and I don't have to compromise on durability or warmth. If this is something you care about, here are some brands that offer stylish vegan clothing.
An important note: Not every item on every one of the below websites is vegan. It also doesn't mean that other brands don't have vegan options (Everlane has great all-cotton tees, for example, and Madewell just debuted a line of vegan, eco-friendly bathing suits made out of recycled plastic bottles). So, if you care about the topic, read the product information before you buy. If it's not available on the webpage, most stores have a messaging/email system that will help get you the deets.
ASOS
ASOS is particularly good at things like vegan coats—wool is, by and large, the go-to material for most brands' heavier, cold weather items like outerwear and sweaters. It makes sense, but technology is starting to catch up. I actually have this purple jacket, and it's just as warm and heavy as wool without being uncomfortable or itchy.
Dr. Martens
The line contains all the classic looks, plus a couple new updates. The synthetic material is called Cambridge Brush and apparently looks and feels exactly like the real thing. It's a modern spin on an old classic I can get behind.
Stella McCartney
Her website makes it clear on their items what exactly they're made of. The manmade materials are often listed as sustainable—they don't use fur, utilize vegetarian leather, and work with manmade silk. And the quality is still high-end, so you're not simply paying for a label.
Unicorn Goods
They've got bucket bags and fanny packs for the fashion-forward—Stella McCartney is one of their vendors, in fact—and totes and weekender bags for those who are more into classic styles. These bags mirror the real thing, from soft, supple faux suede to smooth or pebbled faux leather.
Unreal Fur
There are all kinds of textures, too: From long and thick (like beaver), to short and satiny (like mink), to matted and fuzzy (like shearling). If you want to take advantage of the fake fur wave, start with this brand.
["source=marieclaire"]