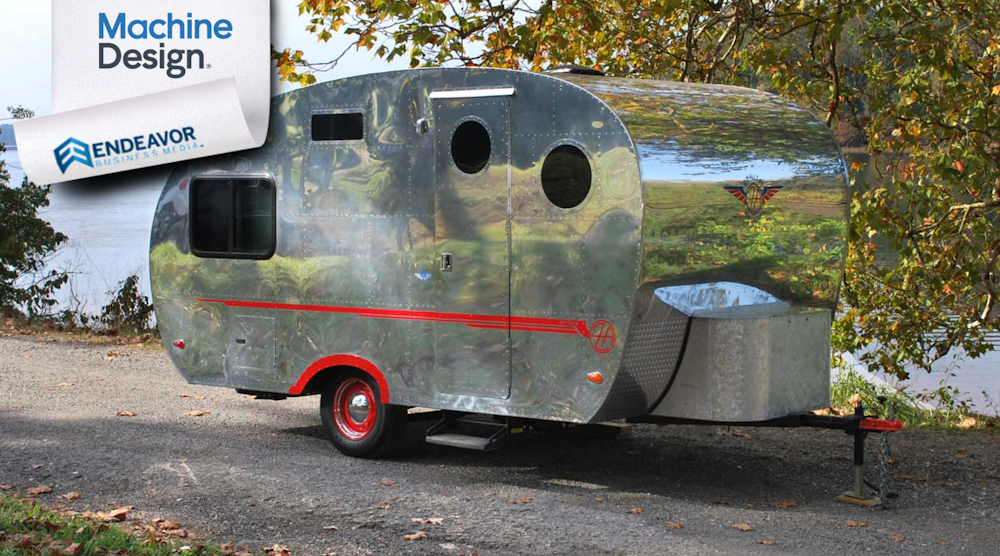 This article appeared in Machine Design and has been published here with permission.
Like many people around the world, our family has enjoyed camping at many destinations. But unlike most people, we had a strong desire to enhance this experience by creating our own travel trailer with classic post-World War II styling, yet with all the modern amenities. In part, realizing this vision would involve using my industrial automation skills to integrate and automate the all-electric systems.
As a self-employed consultant with more than 15 years designing, building and automating state-of-the-art manufacturing equipment, I knew I had the right combination of mechanical and electrical skills to pull this all together. The story of how we fulfilled a family dream of building and traveling with our own camper started over a decade ago. Along the way we had to overcome several setbacks, but finally were able to hit the road and travel around the country.
Winding Road
My wife and I love all things vintage, especially from the 1950s. As we entered our mid-40s with two young children, we began the design phase. Unfortunately, we suffered three severe health setbacks in a row between the two of us.
Over a span of seven years, my wife had a major heart attack, I received a cancer diagnosis with a poor prognosis, and I also sustained a knee injury requiring reconstructive surgery and many weeks away from work. It seemed like every time we were both healthy enough to work on the trailer design, another illness beset us, or due to finances the project would be impossible. Through these times our faith sustained us, and my hope that I could build this trailer for my wife remained.
One day inspiration struck me, and I reached out to Zenith Aircraft company to see if they wanted to partner with us on the project. The reasoning was that Zenith sells aircraft kits, and perhaps they would consider offering a travel trailer kit if it used many of the same aircraft construction principles. The owner and president of Zenith, Sebastien Heintz, was intrigued and we collaborated on a plan.
Upgraded Vintage
After investigation, it turned out it would not be a far leap to add a camper into Zenith's production line. I would create a CAD design, and Zenith would supply the materials and manufacture the parts. The fabrication style would use riveted aluminum like an airplane, and the overall exterior look and interior appointments would follow a retro style. My wife and I would build the camper, and Zenith could show off the prototype at air shows to gauge customer interest.
With the project under way, I began to consider details related to my personal skills for electrical and automation design. The automotive community uses the term "restomod" to describe a classic car that is restored with modern underpinnings, like a performance suspension and a fuel-injected engine. The trailer would be similar because it would look vintage but instead of propane, it would have a fully modern and all-electric systems, including:
Inverter-driven mini-split heat pump (acts as a heater and air conditioner)
Induction cooktop
Electric water heater
Electric refrigerator
Microwave
LED lighting
Even after sourcing all the highest-efficiency versions of this equipment, having all of them running at once would be a considerable load and could exceed the 30- or 50-amp service commonly available in campgrounds. The original camper concept did not consider a control system, but I knew from 15 years of experience with AutomationDirect's PLCs and associated products that I could create a reliable way of monitoring and controlling all the loads.
Modern backup generator systems installed at some sites use a scheme called "load shedding" to turn off less-essential loads in favor of keeping critical loads online. Some of these systems can turn loads back on as sufficient power becomes available. The camper PLC-based load management system would need to do the same.
It would do this by monitoring the current used by every single load, and then comparing the available and requested power thresholds to automatically turn certain loads on or off. Using solid-state relays, the heavy power users like the water heater could be interrupted for a more immediate but momentary needs like the microwave, and then turned back on afterwards.
High-speed pulse-width-modulation outputs, controllable for frequency and duty cycle, could be used for other schemes. The most basic example is using them to control the brightness of various LED lighting. A more advanced application was using them to modulate the speed of two heat pump condenser fans, based on ambient temperature and heat pump compressor load, to keep the head pressure (estimated from compressor amps) optimized, and to increase overall heat pump efficiency while reducing noise.
Modern Underpinnings
Regardless of how vintage the exterior and surface of the trailer looks, the underlying systems are remarkably modern. An AutomationDirect BRX PLC is the brains of the system, offering all the I/O capabilities we need, along with plenty of high-speed computing capability and Ethernet communications.
The camper also uses a 10-in. touchscreen so users can see the system status, adjust the lighting, execute other operational commands and change setpoints. For this application we chose a consumer-grade Raspberry Pi running Python code and communicating with the PLC using Modbus TCP from among the many AutomationDirect industrial HMI displays and controllers. This controller enabled us to perform other PC-like functions, such as web browsing and multimedia display, in addition to the HMI functionality.
With the camper complete, my wife and I have made dozens of trips and we even displayed the camper with Zenith Aircraft at AirVenture, the largest airshow in the United States. The camper has been tested in various weather conditions from cold to extreme heat, and we use every feature and amenity without concern. The BRX PLC and control system we acquired from AutomationDirect performed flawlessly, and we have never tripped a breaker, either on board or from "shore power."
During development, the camper's control system logged data for trending and reporting and using this built-in feature of the BRX PLC was critical for setting power balance parameters. Once everything was dialed-in, we disabled the data logging function. In the future as more features are added like solar power, mobile control capabilities and a security system, the data logging utility of the PLC will be used once again to optimize all the systems.
Heading Down the Highway
Zenith Aircraft is actively exploring market interest in an all-aluminum kit camper trailer. Several model variations are under design and consideration. As for us, we plan to hit the road and tour the United States over the next few years. Just as many construction industry folks have enjoyed applying their skills to building or adding-on to their homes, I have the satisfaction of using industrial automation means, methods and my experience to create a home-away-from-home for our family with modern capabilities.
 In some ways, the travel trailer is an advanced "rolling factory," and we followed the same design, development and testing steps necessary for any type of automation project. Our story is not one of tragedy or bad luck, but it is instead a story showing the importance of faith during trying times and holding on to hopes and dreams.
We learned so much during those years about what's really important in life, and neither of us would change anything about what happened to us. Instead, we are thankful for the friends and organizations that helped us turn our dream into reality.
["source=electronicdesign"]