Uncategorized
Leak reveals color and storage options for the upcoming Samsung Galaxy Z Fold4
Earlier this month there was a report on the Galaxy Z Fold4 and Z Flip4 colorways that are expected to launch in August. More concrete details are now available thanks to leakster Evan Blass, who has found a list of SKUs for the Fold.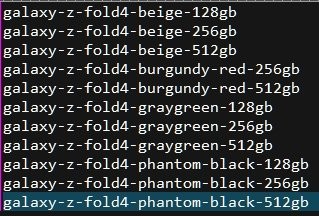 The list confirms the addition of the new Beige color from the earlier report. However, Green is not going away, not entirely at least – there is a color dubbed "Gray Green". There is also Burgundy Red, which is bolder than any of the launch colors of the Z Fold3. Finally, the stalwart Phantom Black lives on for another year.
Leak reveals color and storage options for the upcoming Samsung Galaxy Z Fold4
The list also contains the storage capacity for the phones, showing only three options: 128GB, 256GB and 512GB. The addition of a 128GB option is surprising, considering that last year's model started at 256GB.
The list brings another disappointment – the rumored 1TB version isn't on it. This may also be bad news for the rumored 512GB version of the Z Flip4 (the Z Flip3 was available only with 128GB and 256GB storage).
Of course, this list may be incomplete – the 1TB Galaxy Z Fold4 may be limited to only a few countries or it may launch at a later date. At the very least we are expecting a Thom Browne edition to be available, which is also not on this list.