CLOTHING
Why Melania Trump Wore A Head Covering In Rome But Not In Saudi Arabia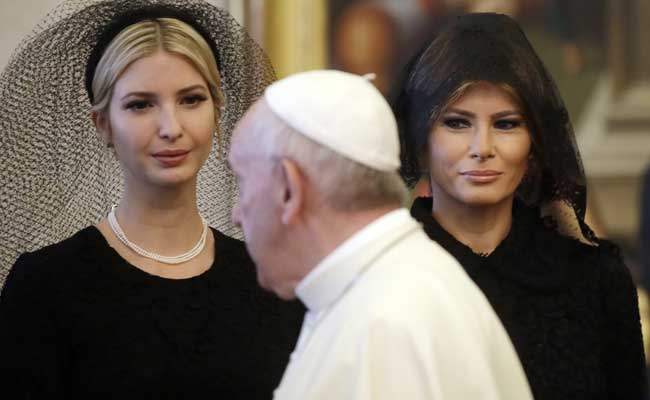 Melania and Ivanka Trump wore a veil at the Vatican but didn't wear a headscarf in Saudi Arabia (AFP)
During the Trumps' meeting with Pope Francis on Wednesday, first lady Melania Trump wore a long-sleeved Dolce & Gabbana black dress and a black veil, following a tradition of many first ladies before her to wear black when meeting the pope. The other women in attendance, including Trump's daughter, Ivanka Trump, wore similar dresses and veils.
There was some confusion, however, over why the first lady wore a veil – or a mantilla – at the Vatican while she didn't wear a headscarf in the Muslim country of Saudi Arabia.
Her spokeswoman wrote in an email that the first lady was following Vatican protocol where women who have an audience with the pope wear long sleeves, formal black clothing and a veil to cover the head. "There was no request/requirement for her attire in Saudi," Stephanie Grisham wrote.
Foreign dignitaries typically follow a dress code when visiting the Vatican, although that dress code started to relax under Pope Benedict XVI, said Rocco Palmo, editor of Whispers in the Loggia, a site on church news and politics. Men typically wear a black suit, white shirt and black tie. Only Catholic queens and the princess of Monaco can wear white in the presence of the pope, Palmo said. Women tend to wear a veil as a kind of throwback to Catholic women who wore them in church before Vatican II in the 1960s.
Pope Francis has relaxed the expectation that bishops wear cassocks when meeting him, so now they wear clerical collars. And Francis famously stopped wearing the red shoes of his predecessor.
"It's been part of his message of simplicity," Palmo said.
Queen Elizabeth II wore a black dress with a veil under her crown several times when she visited the Vatican in previous decades, but in a 2014 visit, she wore a purple dress and hat. And if a first lady meets the pope outside the Vatican, the expectations are different; Michelle Obama wore a blue dress to meet the pope at the airport in Washington, D.C., in 2015.
"The last place the White House would want to snub is the Vatican," Palmo said. "Presidents who win the white Catholic vote win the White House. If she hadn't worn a veil, people would've been reading into it."
In Saudi Arabia, Muslim women are said to be required to wear a headscarf, but foreigners aren't required to adhere to the same dress code. Some prominent women have worn headscarfs for official visits to Saudi Arabia, but it isn't necessarily considered an insult to the country's leaders to not wear one. Like Trump, former first ladies Hillary Clinton and Laura Bush also visited the country without wearing a headscarf.
"I think people are reading into it and misinterpreting it," said Jane Hampton Cook, a presidential and first lady historian. "The pope is the head of a church. The king of Saudi Arabia is the head of state. There is a difference between seeing a religious leader vs. showing respect to a king who's the head of state."
(Clarification: Pope Francis is both a head of a church and a head of a state since Vatican City is a country.)
And while Trump did not wear a headscarf, she dressed in loose clothing with her arms and legs fully covered, fitting for Saudi Arabia's standards for modesty, Cook said. Trump's visit was not with religious leaders or at a house of worship, and while Saudi women cover their hair in public, many Muslim women around the world do not.
Some have heralded Western politicians' decisions not to wear headscarves in Saudi Arabia as revolutionary. Michelle Obama's 2015 visit to the country with her head uncovered was called a "bold political statement" and one that sparked a backlash. At the time, President Donald Trump criticized Obama's decision by tweeting, "Many people are saying it was wonderful that Mrs. Obama refused to wear a scarf in Saudi Arabia, but they were insulted. We have enuf enemies."
Some tweets show photos of Obama and Clinton in headscarves next to Trump not wearing a headscarf, but those photos of the former first ladies were taken in different Muslim countries (Obama was in Indonesia; Clinton was in Pakistan), not in Saudi Arabia.
The headscarf has been "misinterpreted by different people and become overly politicized," said Melanie Elturk, CEO of Haute Hijab, an online brand for modest fashion. "Sometimes we make a bigger deal of it than it needs to be."
While in Israel this week, the Trumps visited the Western Wall, the holiest site where Jews can pray. Ivanka Trump, who converted to Orthodox Judaism, wore a small hat while praying at the wall, while Melania Trump did not wear anything on her head.
President Trump, who became the first U.S. president to visit the wall while in office, wore a yarmulke, which is customary for men who visit the religious site. He also wore one at Yad Vashem, Israel's Holocaust memorial.
["Source-ndtv"]