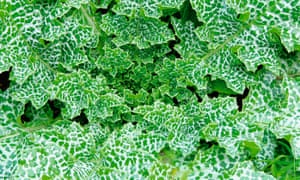 'What about that nice variegated Solomon's seal?" I point to a lovely patch outside a Greenwich brownstone as we wander about Manhattan. "Surely that's an acceptable variegation."
"Nope," my friend says emphatically. "I do not like variegation." ("I do not likegreen eggs and ham," I whisper to myself out of earshot.)
I point at some truly horrid variegation on a coleus. "Is it just bad splashes, here and there – a thin margin of white can't be that bad, surely?" I probe.
She purses her lips and looks horrified. ("I would not like them here or there. I do not like them anywhere. I do not like green eggs and ham.")
I persist: "Some variegation is really very good. Naturally occurring variegation can be very subtle; it can make a scheme."
Variegation is caused by a number of things: pigmentary is the most common, where a lack or masking of chlorophyll causes different leaf colours. White variegation is a lack of chlorophyll, and plants with a lot of white will be weaker growers. Sometimes the masking of green pigments will cause either the whole leaf to look reddish or purple, or zonal markings such as those on oxalis orpelargoniums. Some variegation is caused by the reflection of light on the surface of the leaves, and other times it's because of hairs on parts of the leaf.
In some of my favourite plants, either the leaf margin or the veins are variegated. I love blessed Mary's thistle or variegated milk thistle, Silybum marianum, which has fantastic silver leaf venation. It comes from the Mediterranean and is a robust, large biennial with very spiky, highly patterned leaves (that are also edible). It looks good among other silver-leaved plants such as Salvia argentea or against a bed of shingle. It looks like a big thistle, so it has to be used wisely or it can appear weedy, but it has a majestic air and the seeds are much loved by winter birds.
Likewise, the Italian arum Arum italicum 'Marmoratum' has seductive dark, glossy green leaves with elegant veining in silver-white. The foliage is by far at its best during the winter months, and it loves a dark, damp corner. Another useful one for ground cover in shade is the variegated form of ground elder, Aegopodium podagraria. The variegation slows its progress, but not completely, so it's one for space or not at all. It looks wonderful mixed with forget-me-nots or as an understorey to large-leaved things such as Rodgersia aesculifolia.
I love variegation in the brassica family, too – I enjoy putting a bit of variegated land cress (Barbarea vulgaris 'Variegata') in a salad, plus there's the wonderful, if almost impossible to get hold of, ornamental cabbage Brassica oleracea varacephala 'Crème Chantilly'. This has large, white, variegated margins to the leaves and unusually white flowers. It's a large plant compared with most other ornamental cabbages, and works well with grasses or used as you would flowering sea kale, Crambe cordifolia, for the back of the border.
["source-theguardian"]