NEWS
Intel Says 'Tick-Tock' Strategy Isn't Working Anymore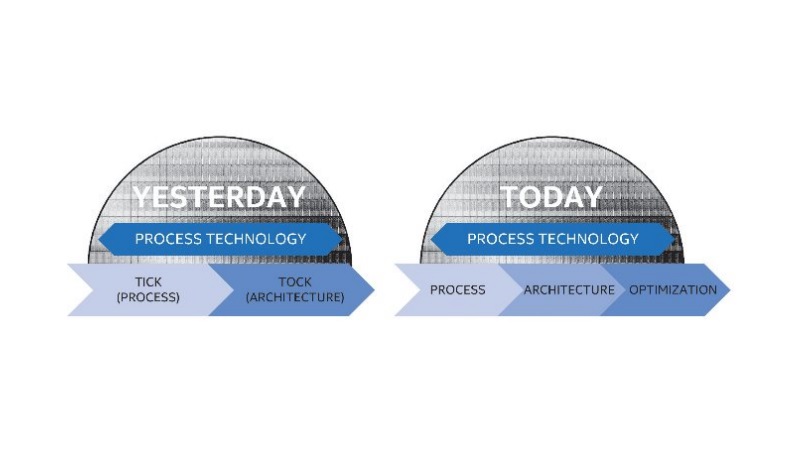 Intel will stop following its two-year "tick-tock" development model, according to details contained within a routine report published by the company. The chipmaker's most recent form 10-K, a financial document filed annually with the United States Securities and Exchange Commission, outlines all of its business operations and any details potentially relevant to investors and regulators.
The most interesting section deals with Intel's R&D efforts. The company says it spent $12.1 billion on designing and manufacturing electronic circuits in 2015, compared to $11.5 billion in 2014. Specific areas of improvement named in the report are energy efficiency, system-level integration, security, scalability for multi-core architectures, system manageability, and ease of use.
The document, first spotted by The Motley Fool, then outlines a new cadence for product development, as opposed to the two year alternating "tick-tock" model which has served for the past decade. Rather than changing its manufacturing process one year and then architecture the next, there is now a third step: optimisation. The document states "We expect to lengthen the amount of time we will utilise our 14nm and our next-generation 10nm process technologies, further optimising our products and process technologies while meeting the yearly market cadnce for product introductions".
This lines up with last year's public announcement that development of the 10nm process would take longer than anticipated, and that the current 14nm process, which debuted with the Broadwellarchitecture and was adopted for Skylake, will carry forward to another product generation, code named Kaby Lake, in late 2016.
Kaby Lake was seen at the time as a stopgap measure to allow Intel to release a new lineup on schedule without having the 10nm process ready. Now, the document indicates that Kaby Lake will have "key performance enhancements" as compared to Skylake, which means it won't be just a minor refresh to tide the company over.
Intel cites Moore's Law as one reason to lay "tick-tock" to rest. Other R&D goals include significantly reducing transistor leakage, lowering active power requirements, and increasing transistor density to allow for ever-smaller packages. Intel is also funding research of extreme ultraviolet and deep-immersion lithography.
According to Intel's SEC filing, the company had 107,300 employees as of the end of 2015, of whom 51 percent are located in the US. Its facilities around the world add up to 56 million square feet of space. Hewlett-Packard Company, which recently split into two entities, is named as Intel's biggest customer in 2015, accounting for 18 percent of its net revenue, followed by Dell at 15 percent.
Download the Gadgets 360 app for Android and iOS to stay up to date with the latest tech news, product reviews, and exclusive deals on the popular mobiles.