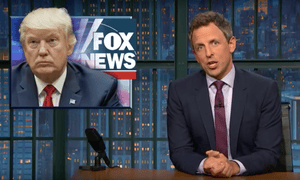 Late-night on Thursday hosts addressed Donald Trump's interview with Fox News anchor Lou Dobbs, as well as the administration's response to the opioid epidemic.
"Sometimes I feel sorry for Donald Trump, but not as often as he does," Stephen Colbert began. "He's always complaining about his media coverage. So last night, he just unplugged, got away from it all, and sat down for his 19th interview with Fox News. In this case, it was a full-blown rubdown from anchor and unrefrigerated Lou Dobbs, Lou Dobbs."
Colbert then went on to show clips of the interview, in which Dobbs told the president the country "owed him a great debt" and that he is "everything as advertised" and has "accomplished so much."
"I'd say that Dobbs was lobbing soft balls, but if that interview was any indication he doesn't have balls," Colbert joked. "Dobbs was pleasuring Trump so vigorously that Mike Pence asked mother to change the channel. Trump then explained how terrible the media's coverage of him is."
Colbert showed more clips from Trump's interview, in which the president expressed his disdain for the media turning "good stories" into bad ones.
"Dobbs was so massaging Trump's, let's say, ego, that he didn't even get around to asking Trump about Puerto Rico, where three-quarters of the residents are still without power," Colbert explained. "The repair job to the grid and the power plants is a $300m contract and it has been awarded to a company called Whitefish Energy, which really sounds like a trout-based boner pill."
Seth Meyers on Trump and Xi
Seth Meyers also weighed in on Trump's interview with Dobbs.
"Just in the past week, senior members of the Republican party said that the president is a threat to democracy and national security," Meyers began. He then showed footage form Trump's Wednesday interview on the White House lawn, in which the president said he has "one of the all-time great memories" and that, having gone to an Ivy-League university, he is "a very intelligent person."
"So Trump is supposedly a very intelligent person with the world's greatest memory and people are saying unbelievable things about him," Meyers summarized. "To be fair, you might also have an inflated ego if there was a whole TV channel dedicated to showering you with praise."
Later in the Fox interview, Trump got a chance to show off that Ivy League education when talking about his relationship with China's president, who was just granted enormous new powers," the host explained. "So let's see our Ivy League educated president talk about perhaps the most important bilateral relationship in the world."
In the interview with Dobbs, Trump said people say he and Xi Jinping have "one of the best relationships of any president-president," explaining that Xi is "called president also" and not "the king of China."
"Incidentally, 'president-president' sounds like how you'd describe someone in comparison to Trump," Meyers joked. "'Sure, Trump is a president, but Obama was a president president."
Trevor Noah on the opioid epidemic
Finally, Comedy Central's Trevor Noahaddressed the opioid epidemic, which the Trump administration initially vowed to declare a national emergency but, yesterday, declared a public health emergency.
"How did this crisis get out of control?," Noah asked. "A big part of it is that for decades a lot of doctors were freely prescribing opioids to almost any level of pain. Doctors would just give out pills for everything: back pain, toothaches, fomo, whatever. And once people were addicted, they were desperate to get their pills and the pharmaceutical industry was more than happy to keep selling them."
He then showed news coverage of the town of Kermit, West Virginia, where, despite a population of just 382 people, 9 million hydrocodone were distributed over the last two years.
"Holy shit, 9 million pills for 400 people?" Noah said. "Even if one of those people is Charlie Sheen, that still leaves 8 million pills unaccounted for. Now, you would think this would be an easy problem to solve. You just get the DEA in to shut down the pill distributor that's flooding the market with all these drugs. The problem is, last year, those bitch-asses in Congress unanimously passed a law greatly cutting the DEA's power to go after these shady pill distributors."
"And if you're wondering why would congress pass a law helping to protect drug companies in the middle of a crisis? Well, it's because of the thing that they're addicted to: money," Noah said, detailing the $2.4bn spent over the last decade on lobbying members of Congress, a number that far exceeds the amount spent by gun lobbyists.
"So the opioid crisis is huge and the pharmaceutical industry isn't really interested in helping," Noah continued. "But fortunately, my friends, as we saw in August, there's one man who gets it."
Noah showed Trump, speaking in August, announcing his plans to declare the opioid crisis a national emergency; the administration, though, only declared it a public health crisis Thursday, a solution that greatly handicaps the government's ability to use federal funds in addressing the crisis.
"You see a national emergency means the government would have had access to $23b to help fight the opioid epidemic," Noah explained. "That's what Trump promised. What Trump actually signed was a public health emergency which gives the government access to a fund that currently has $57,000 in it."
Source:-theguardian