NEWS
Indian Economy to Grow at 7.4% in FY16: Industry Body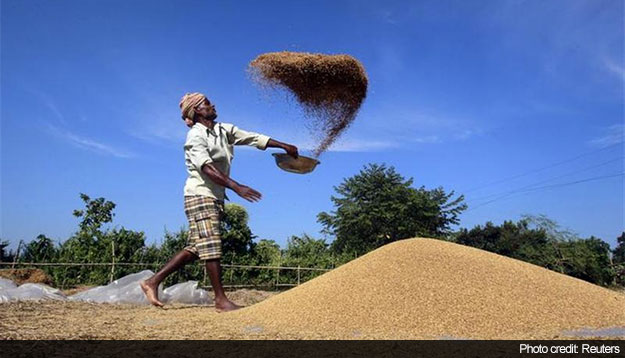 New Delhi: The Indian economy is expected to grow at 7.4 per cent in the current fiscal year, slightly lower than 7.6 per cent projected in advance estimates of the Central Statistics Office, industry body Ficci said on Tuesday.
"The results of latest round of Ficci's Economic Outlook Survey put across a median GDP growth forecast of 7.4 per cent for the current fiscal year," it said.
Earlier this month, the CSO had estimated that Indian economy would record a five-year high growth rate of 7.6 per cent in 2015-16 on improved performance in the manufacturing and farm sectors.
The Ficci poll was conducted during January/February 2016 among economists belonging to the industry, banking and financial services sector.
According to its results, agriculture sector is expected to record a growth of 1.7 per cent in 2015-16, 0.3 percentage points lower than estimated growth in the previous round.
"Rabi sowing has been low in many areas owing to relatively warm winter this season. Industrial growth is projected to improve to 7.1 per cent in 2015-16, while services sector growth is estimated at 9.7 per cent," it said.
The outlook of the participating economists on inflation remained moderate. The median forecast for Wholesale Price Index-based inflation rate for 2015-16 has been put at (-)1.8 per cent, with a minimum and maximum range of (-)2.8 per cent and (-) 0.4 per cent, respectively.
The Consumer Price Index based inflation has a median forecast of 5 per cent for 2015-16, with a minimum and maximum range of 4.6 per cent and 6.3 per cent, respectively.
In addition to the projections on key macro parameters, the poll asked economists to list their top expectations from the forthcoming Union Budget 2016-17.
The participating economists unanimously felt that there is an urgent need to strengthen the domestic capex cycle and it would remain most imperative to give a thrust to investments in infrastructure sector.
Also, they said, taking further measures towards assuring ease of doing business will be important.
Further, the respondents said that they expect greater efforts towards promotion of MSMEs, especially those based in the rural areas in order to boost employment levels and the rural economy.
It was also suggested that the limit of original investment in plant and machinery/equipment for classification of MSME units needs to be revised.
The participating economists said that they look forward to passage of GST and Bankruptcy Bill in the ongoing Budget session. They also suggested that a clear roadmap for rationalising corporate tax should be laid down in the budget.
["source-ndtv"]