COMPUTERS
Chrome OS 49 Update Now Available; Brings Material Redesign, and More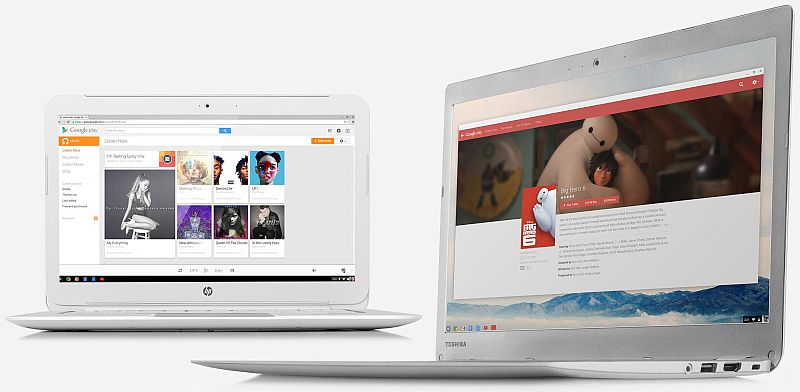 Google started releasing the stable version of the Chrome 49 browser earlier this month (OS X, Windows, and Linux) as well as Android devices. Now, Chrome OS 49 with build 49.0.2623.95 is now available for all Chrome OS devices.
Announcing the new stable build Chrome OS 49 build, Josafat Garcia, Technical Program Manager atGoogle (Chrome) in a blog post added that the new build also contains a number of bug fixes, security updates, and feature enhancements. Garcia revealed that users with Chrome OS systems should start receiving updates over the next several days.
Some highlights of the new Chrome OS 49 include material redesign for media players, Raiden notification for dual-role devices (Chromebook Pixel 2015), and ability to choose keyboard layout of Extension IME. The latest update also enables MJPEG HW decoding for Arm-based devices and allows adding video preview and album cover as thumbnails in Files App.
Google's stable version of Chrome 49 rolled out to OS X, Windows, and Linux included several bug fixes along with number of developer APIs and new user-facing features. One of the key features of the Chrome 49 was smooth scrolling functionality alongside 26 security fixes. Google's stable version ofChrome 49 for Android and iOS also brought several new features. On Android, Google Chrome 49.0.2623.91 improved background sync with the Background Sync API. The Background Sync API enabled sites to schedule sync when an Internet connection was detected the next time, even when the page was closed by the user.
Download the Gadgets 360 app for Android and iOS to stay up to date with the latest tech news, product reviews, and exclusive deals on the popular mobiles.
Tags:
Chrome, Chrome OS, Google, Laptops
["source-Gadgets"]