CLOTHING
Crow clothing, Corps of Discovery horses in focus during Lewis & Clark convention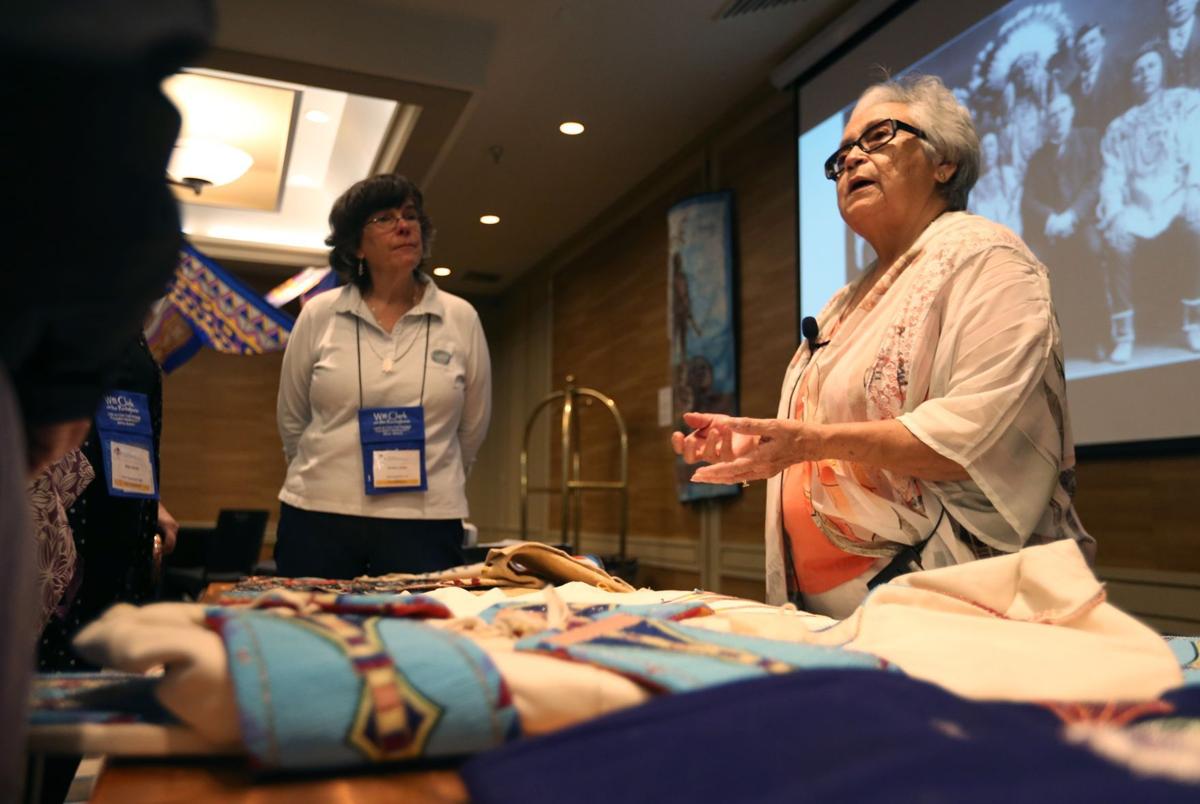 Admitting that she felt "like Mickey Mouse talking to a whole roomful of Walt Disneys," Mardell Hogan Plainfeather took a roomful of Lewis and Clark enthusiasts Monday through what she has learned over a lifetime of creating and wearing Crow women's clothing and jewelry.
Plainfeather is a Crow elder and Plains Indian historian and career National Park Service employee. She spoke to the national meeting of the Lewis and Clark Trail Heritage Foundation at the DoubleTree by Hilton. More than 170 people registered for the conference, which runs through Wednesday.
When she was age 11 and her father died, Plainfeather asked her mother if she could start dancing again. Her mother said yes, and the girl then asked her mother to make an outfit she could dance in. Her mother's message was blunt: Make it yourself.
"At first I thought my mother was not very nice, but I learned a lot" by creating the outfit herself, she said.
She has long woven Crow customs into her work. She once sewed a piece of her daughter's umbilical cord into a piece of jewelry "to keep her close," she said. Once she prayed over the item "to bring her back to me, and it worked," she said.
Plainfeather explained the reticence of Crow women to show off the clothing they have created.
"They're too precious," she said of the handmade clothing and jewelry. "That's why I try to educate non-Crow people."
She displayed a cradleboard she made for her granddaughter. "They are difficult to make," she said. "I made this one, and I will never make another one again."
The cradleboard has a soft lining to comfort the baby as well to serve a more practical purpose. "They are the great-grandfather," she said with a laugh, "of the disposable diaper."
Each item she displayed Monday has a story, she noted.
"When you marry into a family, you get a whole bridal outfit" from head to toe, she said. "They can't wait to parade you in front of everyone. One woman I interviewed said you don't interfere with your daughter-in-law's affairs until you outfit her."
Horse thieves?
Adrian Heidenreich, Montana State University Billings professor emeritus, delivered a talk on "Promises and Threats, Horses and Trade: Capt. Clark and the Crow Indians."
Heidenreich said members of the Corps of Discovery never could prove it was the Crow who on two occasions took a total of four dozen horses from them.
And besides, he said, "Lewis and Clark experienced both sides of the horse-capturing game." The captains and their men "took possession of horses if they saw no owner present."
Meriwether Lewis once noted that his Indian horse "carried me very well, much better than my own did."
The Crow viewed it more as a game, Crow historian Joe Medicine Crow has said, "but Clark had a different perspective," Heidenreich said. "He viewed it as stealing."
Once he reached the Mandan villages on his way back to St. Louis in 1806, Clark had planned to trade horses for items his men needed. Instead he found himself editing a speech he'd planned to deliver to Crow leadership, telling them the "Great Father" (President Thomas Jefferson) wouldn't be happy "to hear of your stealing."
Did the Crow in fact take Clark's horses?
"It's not known positively," Heidenreich said. Some accounts say the Crow "did take credit."
"We didn't steal them," one Crow man said at the time. "We just took 'em."
If they did steal them, the Crow didn't brag about the feat, Heidenreich said.
"They didn't count it as coup," he said, "because the White Man slept too much."
In the end, Clark's encounter with the Crow "lasted much longer than the 28 days he spent hurrying along the river to meet Lewis and conclude the expedition," Heidenreich said.
Clark held no long-term ill will against the Absalooke people, according to Heidenreich, an adopted member of the tribe.
As the appointed Indian agent in charge of dealing with tribes north and west of St. Louis, Clark became known as the Redheaded Chief and served in the position from 1807-31.
["Source-billingsgazette"]