ELECTRONICS
Microsoft HoloLens Goes Up for Pre-Orders at $3,000; Specifications Revealed
To nobody's surprise, Microsoft announced on Monday that it has begun taking pre-orders for theHoloLens Development Edition. The $3,000 augmented reality headset will begin shipping to the United States and Canada on March 30. The company also took the opportunity to talk about the innards of the HoloLens as well as showcase apps and games for it.
The HoloLens Development Kit comes with a Bluetooth 4.1 Clicker, that was leaked last week. The Clicker enables a user to manipulate with the object and trigger commands. The Development Kit also comes with replacement nose pieces. Microsoft says the HoloLens requires you to have a PC that is running Windows 10 and Visual Studio.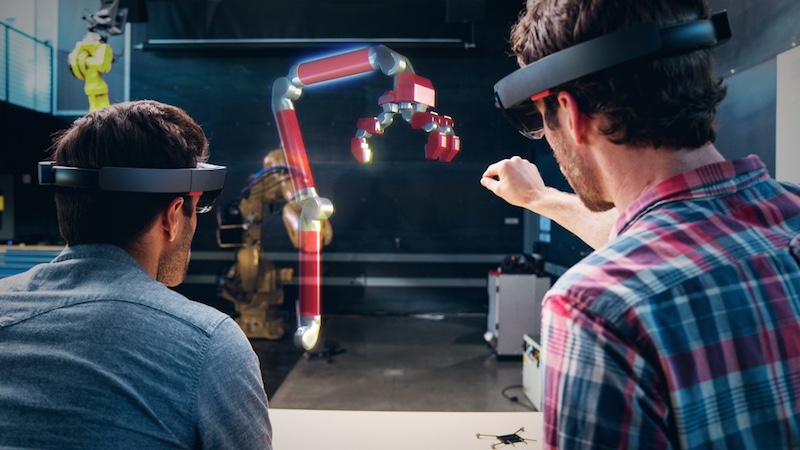 As for the specifications, the HoloLens is powered by a 32-bit Intel SoC coupled with a custom-built Microsoft Holographic Processing Unit (HPU). Other hardware specifications include 2GB of RAM and 64GB of inbuilt storage. The HoloLens also supports Bluetooth and Wi-Fi connectivity.
It houses a range of sensors including an ambient sensor, four environment understanding cameras, and an inertial measurement unit. The HoloLens has a 2-megapixel HD (1280×720) pixels camera, and four microphones. Microsoft insists that the HoloLens doesn't weigh more than 579 grams. Its battery, the company says, can last for two to three hours on a single charge when in use, and two weeks on standby.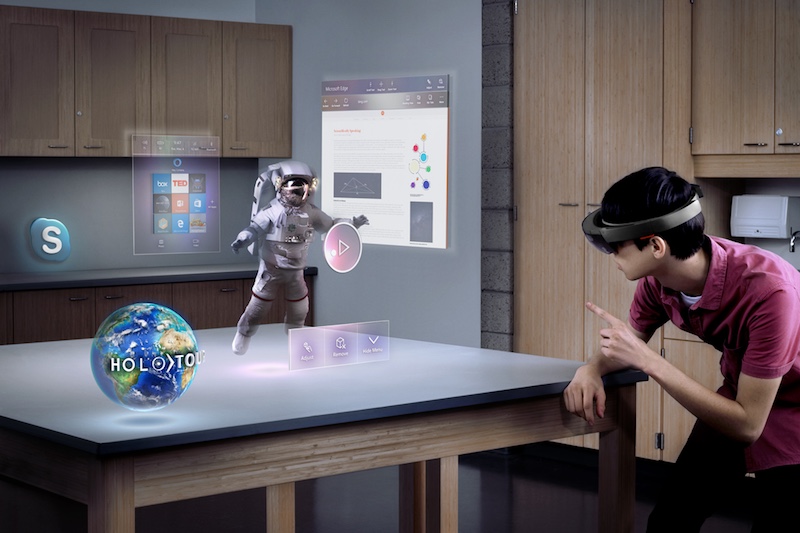 Microsoft also unveiled apps and games that it is shipping with the HoloLens headset. There are seven of them in total, and they are aimed at enhancing your experience and getting you started with theaugmented reality world. These apps include HolStudio, which allows you to make use of hand gestures, voice commands to create 3D objects. There's also a Skype app for HoloLens, which lets you communicate with others as if both the parties were in the same room.
There's also an app called HoloTour, which offers a 360-degree panoramic view of various places, which you can visit in the augmented world. The company says it is also bringing an app called Actiongram,which we reported on last week, later this year. Microsoft is not disappointing game developers. The HoloLens comes with Fragments, Young Conker, and RoboRaid. You can learn more about the game titles on the company's page.
The company's official HoloLens Companion for desktop and mobile on the Windows Store lists also has some interesting features, such as allowing users to view and download photos, videos taken on the headset; watch a live stream of what the headset is currently seeing; remotely take photos and videos from the headset; launch / kill apps on your HoloLens device remotely, and use desktop / phone keyboard to inject input on your HoloLens.
Download the Gadgets 360 app for Android and iOS to stay up to date with the latest tech news, product reviews, and exclusive deals on the popular mobiles.