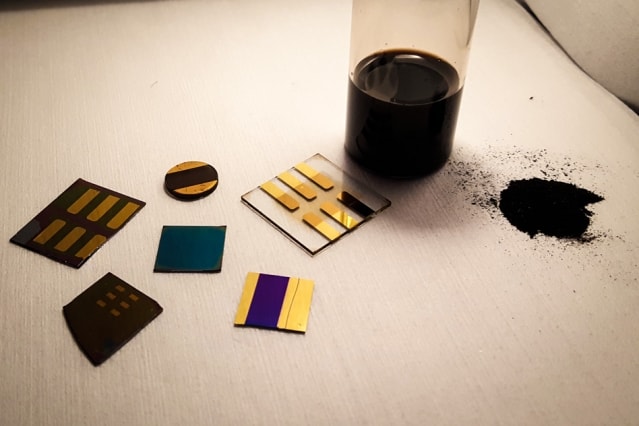 A sample of pulverized coal with several test devices made by MIT researchers. (Image courtesy of MIT.)
Engineers are aiming to change the way coal is used by repurposing it from combustible fuel into electronic devices for a variety of industries, including energy, aviation and healthcare.
Even though coal has been one of the most widely used substances for centuries, its bulk electronic and optical properties have never been studied for the express purpose of creating electronic devices.
Recently, new research demonstrated how unrefined coal can be used to create a simple electric heating device for use in defrosting car windows or airplane wings. This initial application lead to the first ever detailed characterization of the chemical, electric and optical properties of thin films made from four different types of coal: anthracite, lignite and two bituminous types.
The research shows that naturally-occurring coal has innate properties that are desirable for electrical devices. For example, unrefined coal can have a range of electrical conductivities spanning seven orders of magnitude. This gives it an advantage over silicon, which requires intense refinement to be suitable for electrical components.
Unlocking Coal's Potential
Coal is composed mainly of carbon and formed from organic matter which has decayed and been subjected to pressure over millions of years. The four varieties the researchers selected are just a few of the hundreds of types of coal that exist.
"We usually want to make materials from scratch, carefully combining pure materials in precise ratios," said Nicola Ferralis, researcher at MIT's Department of Materials Science and Engineering (DMSE). "In this case, though, the process involves selecting from among this huge library of materials, all with their own different variations."
Another major challenge the researchers faced was figuring out how to process the unrefined material. In order to study its electrical properties, they developed a series of steps in which bulk coal was crushed into powder, suspended in a solution and then deposited in a thin, uniform film on a substrate.
A simple heating device made by the researchers from unrefined pulverized coal under visible light (left) and infrared, (right). (Image courtesy of MIT.)
A simple heating device made by the researchers from unrefined pulverized coal under visible light (left) and infrared, (right). (Image courtesy of MIT.)
The simple heating device the team made as a proof of principle provides an end-to-end demonstration of how to use the material, from grinding the coal, to depositing it as a thin film and making it into a functional electronic device.
In addition, the engineers found that by simply adjusting the temperature at which the coal is processed, they could fine tune many of the material's optical and electrical properties precisely to the desired values.
Creating Nanocarbon Materials from Unrefined Coal
Although coal has long been used as a feedstock in the chemical industry, the material has traditionally been treated like other kinds of raw ore—something to be refined into its basic atomic constituents or simple molecules and then recombined. Using the chemistries found in nature is an unusual new approach.
"This is a significant step (probably the first) to utilize nanocarbon materials, directly from unrefined coal, with controllable electronic properties and excellent stability and scalability," commented Shenqian Ran, associate professor of mechanical engineering at Temple University, who was not directly involved in the research.
The biggest advantage of this alternative approach, according to Jeffery Grossman, professor in environmental systems in the DMSE, is its low cost. Silica may be cheap and abundant, but its highly refined form needed for electronics (typically 99.999 percent pure or higher) is not.
Coal Can Be More than Just Fuel
Coal power plants currently provide 41 percent of global electricity and 70 percent of current global steel production. The relatively-high energy density of coal, approximately 24 mega joules per kilogram, makes it an attractive power source.
The Big Bend coal power station in Apollo Beach, Florida.
The Big Bend coal power station in Apollo Beach, Florida.
However, burning coal creates harmful emissions which include sulphur dioxide, carbon dioxide, nitrogen oxides and various particulates. Not only do these emissions contribute to global warming, but they can also lead to acid rain and harmful effects for the health of people living in the vicinity of coal-burning facilities. Thus, using coal in non-fuel applications is attractive not only economically, but environmentally as well.
Perhaps in the future, receiving a "lump of coal" will not just be reserved for those on the naughty list.
Are we better off using coal to power cities or build electronics? Comment below.