NEWS
A Pet Owner's Guide for Maintaining a Clean Home
Pet owners love their furry friends as they make great companions fulfilling their needs to love, cherish and fight boredom. There are many health benefits that are associated with having pets like having a cat around lowers stress, BP and cholesterol levels. Having pets is beneficial in multiple ways,however, they also come with their own set of problems. There can be pet hair, pet dander andweird odours in the house. Your little, adorable wobbly kitten or pup can actually be the cause of poor air quality and allergens.
If you love to have pets, you need to follow certain tips like bathing the pets regularly and using a vacuum cleaner for hometo remove pet hair and dander from surfaces. Here's a quick guide for the same.
Vacuum Regularly
One of the most persistent issues that pet owners face is presence of animal hair and dander. It is found everywhere right from the floors to the furniture, upholstery and clothing. The only possible way to get rid of it is to vacuum your house regularly. Sweeping and mopping to the home doesn't removepet hair and dander. As a result, thesekeep accumulating in the house and lead to allergies in people. So,get a vacuum cleaner for home, preferably with a HEPA filter and vacuum it regularly to ensure a cleaner surrounding.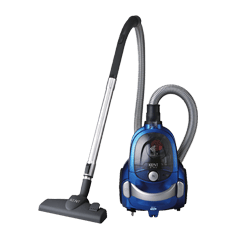 Bathe Your Pets
Depending on the pet breed, the weather conditions and activities of the pet, you need to fix a frequency for bathing your pet. Use a pet shampoo as it will ensure that there are no fleas. Pets often bring with them mud, dirt and other contaminants when they go out.Keeping them clean ensures a cleaner surrounding.
Air Purifier
Pets can deplete the quality of indoor air. This is because they keep shedding hair and dander regularly.Besides getting accumulated on floors and furniture, theseare also airborne. In case you have a centralised air conditioner, the problem can get even worse as it spreads all over the house. It can aggravate allergic reactions in those who are prone to allergies leading to watery eyes, sneezing, rashes, respiratory issues etc.
Use an air purifier with HEPA filter to improvethe quality of indoor air. It also helps in getting rid of the smell that is specific to those pets that predominantly stay indoors like birds, potbelly pigs and cats. The inbuilt carbon filter in air purifier neutralizes these odours making the home smell fresh.
Keep Some Areas Off limit for Pets
Some areas of your house like your bed and furniture should be off the limit of your pets. This is important because doing a thorough cleaning of every nook and corner of the house is not possible on a regular basis.
If the pet owners follow these simple guidelines, there will be no threat of allergy-inducing dander or disease-causing bacteria from these companions. These measures will ensure that your house is clean and your little furry friend is not confined to the backyard.