ALL DEALS
SoftBank's Son Finally Explains How All Those Deals Fit Together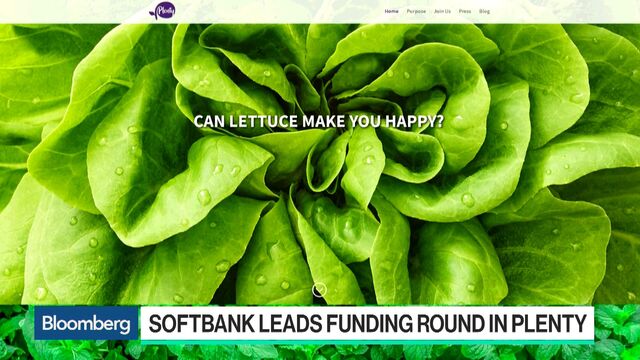 Masayoshi Son has had a busy year even by the standards of Japan's most prolific investor. On Thursday in Tokyo, he took time to explain how it all fits together.
In the past six months, SoftBank Group Corp. has invested in businesses ranging from ride sharing, co-working and robotics to agriculture, cancer detection and autonomous driving. The 59-year-old took the stage at SoftBank World, the company's annual two-day event for customers and suppliers, to outline the strategy behind those deals and the company's planned $100 billion technology fund.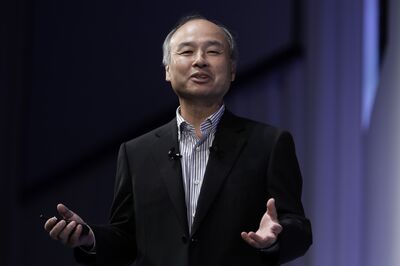 In the span of two and a half hours, Son painted a picture of the future where satellite networks cover every inch of the Earth and a trillion devices connected to the internet disgorge data into the cloud where it is analyzed by artificial intelligence. SoftBank and its companies will be there at every step of the way, the billionaire said.
"I'm so excited," said Son, SoftBank's founder and chief executive officer, dressed in a dark jacket and striped, open-collar shirt. "It really feels like sleeping is a waste of time."
Masayoshi Son's $100 Billion Bet to Conquer the Future
SoftBank Vision Fund has already raised more than $93 billion in total commitments from the Public Investment Fund of Saudi Arabia, Apple Inc. and other large institutional backers, while SoftBank itself is contributing $28 billion. The fund will invest in cutting edge technologies from virtual reality to autonomous driving and the Internet of Things. At the Tokyo gathering, Son let about 10 of the portfolio companies take the stage and speak for themselves.
"The Vision Fund is not about taking on the world with one specific technology, business model or brand," Son said. "It's about people sharing the same vision coming together to start a revolution."
Marc Raibert, CEO of Boston Dynamics was the first to take the stage. SoftBank in Junesaid it is buying the robot maker from Google parent Alphabet Inc. Terms of the deal weren't disclosed and it wasn't clear whether the companies would remain within SoftBank or become part of the Vision Fund.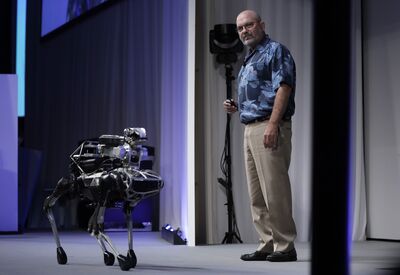 At the event, Raibert demonstrated Spot Mini, one of the company's smaller robots. The quadruped, which uses stereo cameras and laser range finders to locate itself in space, trotted around the stage, clambering over or avoiding obstacles. At one point, he fetched a can of soda with an extendable claw for its inventor.
"Our goal is really to build robots that are equal to or greater than people in terms of their mobility, manipulation dexterity, perception and intelligence," Raibert said. "That's a long range target."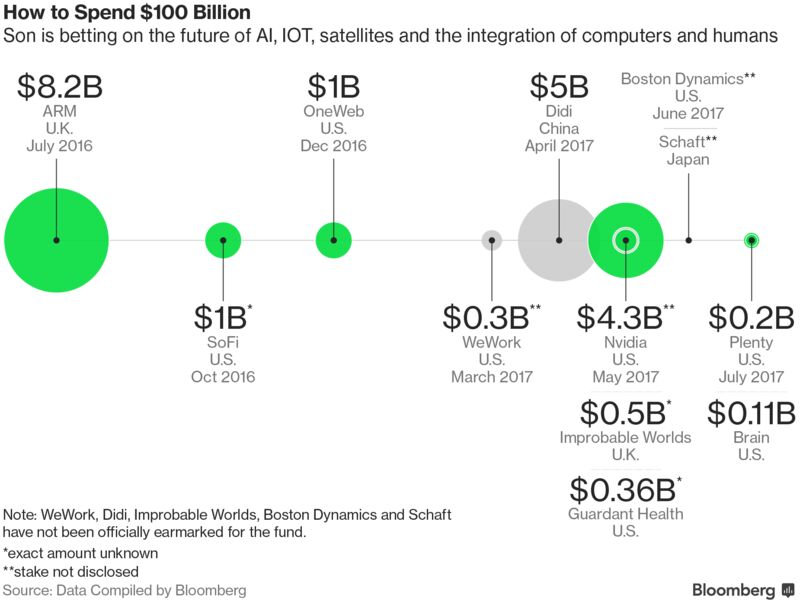 Son then invited Greg Wyler, the founder of OneWeb Ltd., to the stage to show how these kinds of robots may eventually connect to the internet. The satellite startup, which in December raised $1.2 billion from SoftBank and existing investors, working on providing affordable high-speed access available anywhere in the world and targeting 1 billion subscribers by 2025. The Florida-based company will not only connect people, but also cars, trains and ships, Wyler said.
Speakers at the event also included Guardant Health Inc., a startup developing low-cost DNA sequencing technology that would allow for early detection of cancer, and Nauto Inc., whose self-driving technology can help reduce accidents by tracking driver behavior.
Son was also joined by two newest additions to the Vision Fund portfolio. The fund led a $200 million investment in Silicon Valley startup Plenty, which aims to grow crops indoors more efficiently than ever. It also led a $114 million round for San Diego-based Brain Corp., developer of AI technology that enables robots to navigate their environment while avoiding people and obstacles using visual cues and landmarks.
In previous years, Son has shared the stage at SoftBank World with Alibaba Group Holding Ltd. co-founder Jack Ma and the company's Pepper robot. The singularity has became a recurring topic. Last year, Son spoke about SoftBank's acquisition of chipmaker ARM Holdings Plc and its role bringing about advanced artificial intelligence, which he predicted can happen as early as 2018.
"Singularity is definitely coming, perhaps withing the next 30 years," he said. "Considering humanity's 200,000-year history, 30 to 50 years is just an error margin."
Even before the Vision Fund, Son has used cash from broadband and telecom operations in Japan to fund investments in businesses abroad. He was an early backer of Yahoo! Inc. and Alibaba. He spent $22 billion to acquire control of U.S. wireless operator Sprint Corp. and last year bought ARM for $32 billion in the largest deal of his career.
On Thursday, Son took time to defend his track record. While Alibaba has been a phenomenal success, with SoftBank's stake now worth more than $100 billion, he said he's more than a "one-trick" investor. SoftBank's internal rate of return is 44 percent overall and would still be 42 percent without Alibaba, he said.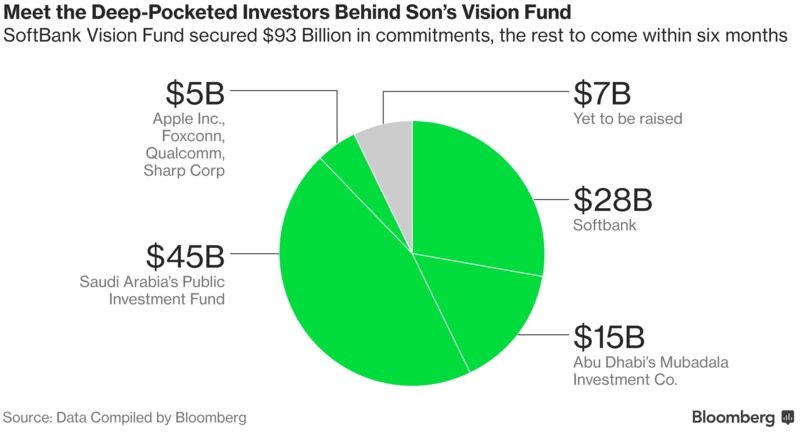 For more on Masayoshi Son, check out the Decrypted podcast:
On Friday, speakers from WeWork, Microsoft Corp. and Cybereason Inc. took the stage at SoftBank World. A $100 million investment from SoftBank last month valued Cybereason, a cybersecurity company founded by former operatives in Israel's elite Unit 8200 military intelligence group, at more than $850 million. SoftBank also invested $300 million in WeWork earlier this year, valuing the New York-based startup at about $20 billion.
WeWork, tied for the world's fifth-most valuable startup according to CB Insights, earlier this month announced a partnership with SoftBank to expand into Japan. The first location is scheduled to open in Tokyo in early 2018 with as many as 20 locations planned by the end of the year. WeWork's co-founder Miguel McKelvey told the audience in Tokyo that the business is about more than just renting desks and office space to freelancers and businesses. The company aims to create environments conducive to innovation, a proposition that has also attracted large company tenants like General Electric Co. and KPMG LLP.
["Source-bloomberg"]