COMPUTERS
Top 5 Computer Trends We Expect at CES 2017

The Consumer Electronics Show, the annual trade show, often lays the foundation for the coming year in technology. CES 2017, which officially gets under way on January 5 in Las Vegas, will certainly yield a lot of computer news, most of it from manufacturers reacting to Microsoft and Apple's offerings from this year.
We expect to see a continuing cross-pollination of features, many from the tablet market, reinvigorate laptops and desktops. We'll also see a greater emphasis on meeting the needs of gamers and creative professionals at the show.
1. More Touchscreens
Tablets may be past their prime when it comes to market interest, but that doesn't mean computers won't borrow ideas from them.
"We've seen the smartphone rise to become the dominant vehicle of connectivity. And being touch driven, it's spread into the tablet and the tablet has spread into the laptop," says electronics consultant Rhoda Alexander, director of tablets and PCs at IHS Markit, a data and market analysis firm. "Users in their 20s and younger grew up on touch, and to them, removing that functionality from their toolbox is almost like removing a limb."
See Consumer Reports' CES 2017 Coverage
Microsoft's Surface line of laptops and desktops addressed that need by essentially promising the experience of both a tablet and laptop in a single device.
This year's much-hyped Microsoft Surface Studio's display is designed to function like a touchscreen tabletop drafting board. It's more than likely we'll see a few all-in-one desktops that mimic the Studio's innovative approach.
We're also expecting to see touchscreens pop up away from the display. Much like Apple's Touch Bar, the new feature on this year's refreshed MacBook Pro that takes the place of some function keys, manufacturers are poised to implement touchscreens in place of keyboards or trackpads.
"I think there are a lot of people watching what Apple's doing with the Touch Bar and how it evolves," says Alexander. "It can become a very powerful tool. It offers an interesting alternative to a convertible or detachable in a traditional clamshell notebook in that it brings touch to your fingertips without having to reach to touch the screen, which is just not ergonomically friendly."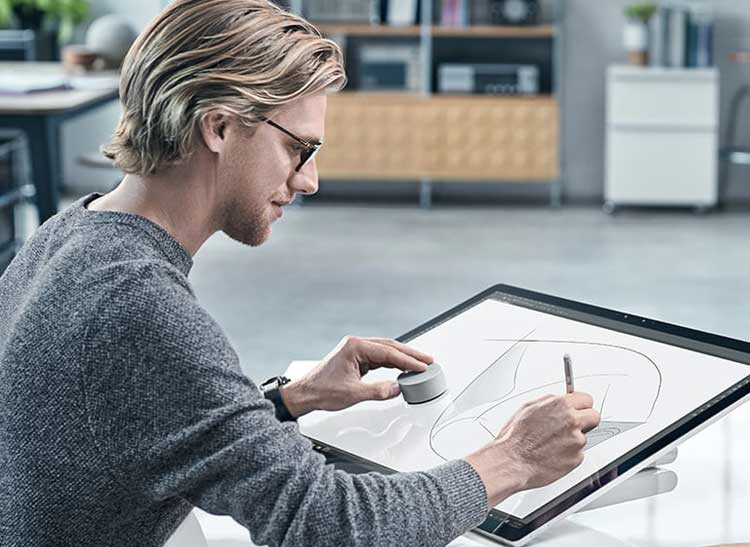 2. Innovative User Interfaces
It's been a while since Apple has updated its desktop computers: October 2015 for the last iMac update, while the Mac Pro has remained unchanged since its introduction in 2013. This has encouraged many makers of Windows-based computers to introduce innovative models aimed squarely at creatives.
"There's absolutely an opportunity for Windows vendors to jump into that particular niche," says Alexander.
Earlier this year Microsoft unveiled its Surface Dial, which provided users a new way to interact with their computers.
The puck-like peripheral, designed with creative professionals in mind, can be used in tandem with a stylus, a mouse, or a fingertip. For example, you could rotate the Dial to call up a color wheel in an illustration program, zoom in and out of an image, or change the volume on Spotify. The Dial is optimized for the Surface Studio, where it can be mounted on the display and provide haptic feedback, but at just $99, it could appeal to the users of any PC, laptop, or tablet that runs the Windows 10 Anniversary update.
Alexander warns that the graphics professionals who have become disenchanted with the newest Macs aren't complaining about the form factor or old-school input devices but the lack of ports, RAM, and large hard drives.
"It's very easy to become distracted by the bells and whistles," she says. "A professional machine should have exactly what's essential but nothing more. It's a tool and you want it to be as efficient a tool as possible."
Toward that end, Alexander notes that Windows-based machines are poised to get a software update in early 2017 that will offer improved color resolution, a long-standing objection of Mac-based graphic artists.
But to appeal to the casual user who simply wants to look like a pro, we'll likely see more fancy, next-gen knobs and dials from other companies at CES. And we're expecting to see more styluses, pens, and other input devices shipping as standard accessories with many PCs.
3. More Security Features
The National Retail Federation reports that more than half of consumers will use their computers and smartphones to shop online. Given that, and near-weekly reports of website hacks, users are clamoring for a safer and more secure way to buy online and manufacturers are scrambling to give it to them.
While fingerprint sensors have been a fixture in enterprise computers, the advent of the Touch ID sensor and Apple Pay, first seen on Apple's iPads and iPhones, is a flagship feature of the latest MacBook Pro. This sets the stage for similar security features on Windows computers. Also expect more computers to support Windows Hello facial recognition for login and perhaps even for online payment.
Alexander notes that the best security doesn't do much good if the consumer doesn't use it, so look for an emphasis on user-friendly security features at CES.
"They're working to build in security that's more intuitive," Alexander explains. "Something that's individualistic but also relatively easy."
4. Appealing to Gamers
It has been projected that electronic sports could be a near $1 billion business by 2019, so it's no surprise that more and more manufacturers are hoping to cash in on its skyrocketing popularity.
It's a near certainty that we're going to see several companies announce gaming PCs and laptops at CES, in addition to software and other services tailored specifically to gamers.
While some manufacturers have attempted to expand the gaming market by offering somewhat stripped-down laptops at around the $1,000 price point, Alexander notes that this effort was only modestly successful. So look for manufacturers to continue to introduce expensive, cutting-edge machines that meet the needs of the most demanding gamers.
"It's the power, the speed, the ability to stay fired up without overheating," she says. "Power users are still prepared to shell out the big bucks for really powerful machines."
We'll also likely see more virtual-reality-ready laptops and desktops that support devices like the Oculus Rift and HTC Vive. When Microsoft announced its Surface line earlier this year, it also said that it would partner with HP, Dell, Lenovo, Asus, and Acer to produce VR headsets, with options starting at $299. The goal was to lure budget-minded consumers away from the far pricier Oculus Rift and Vive systems, and we could see a few of those before the show's end.
5. The Next Generation of Chromebooks
Google began making its Play store available for select Chromebooks earlier this year, which allowed computer users to access apps built for Android devices.
We expect to see a flurry of touchscreen-capable Chromebooks designed to take full advantage of this feature.
"Touch is coming to Chrome in a big way," says Alexander, who also sees a parallel trend of higher-resolution displays to make up for the loss of brightness and clarity that affects some touchscreen machines.
At CES we'll also see the introduction of the first wave of convertibles and two-in-ones that feature gyroscopes and accelerometers so that racing games like "Need for Speed" and puzzle games like "Maze!" can be played on a Chromebook.
["source-smallbiztrends"]