COMPUTERS
Is this a wind-up? Planet Computing calls time on ZX Spectrum reboot firm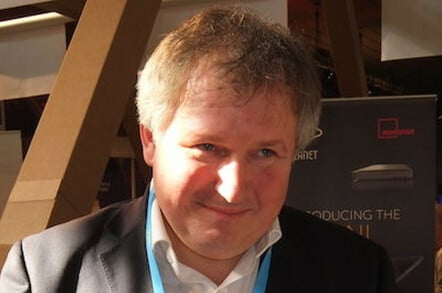 Retro Computers Ltd, which absorbed £513,000 of backers' money to produce ZX Spectrum-themed game consoles it then failed to deliver, has been wound up – by Planet Computing, makers of the Gemini PDA.
RCL, whose fortunes have been chronicled on El Reg, was wound up on 1 February 2019 by Private Planet Ltd, which trades as Planet Computing, whose flagship product is the Gemini PDA, though in November a second gadget was announced, the Cosmo Communicator.
Private Planet's sole director is Janko Mrsic-Flogel, who is also a former director of RCL. He resigned from RCL in August last year before one of the many legal hearings that culminated in his being ordered to pay £38,000 in legal costs to two of RCL's founders.
Mrsic-Flogel had to stump up along with RCL's other then-directors: chairman David Levy and MD Suzanne Martin, as well as the company itself. Private Planet's winding-up petition was first filed on 30 November 2018. To obtain a winding-up order, a creditor must be owed at least £751 by a company.
Private Planet's director was originally brought aboard RCL's ill-fated ZX Spectrum Vega+ console project by David Levy after co-founders Paul Andrews and Chris Smith left in 2016. Smith had written the console's firmware but had not handed over ownership to RCL by his departure, leaving the company in need of replacement software. The few dozen machines (RCL claimed 400) that eventually reached customers were found to be running freeware emulation software FUSE.
We have contacted Mrsic-Flogel to ask him for an explanation and will update this article if he responds. RCL's sole director at the time of its winding-up, David Levy, had ignored emailed requests from The Registerto explain what had happened. RCL was not represented at the winding-up hearing, a court official told El Reg.
A~s for crownfunding site Indiegogo, we have asked whether it will engage in the liquidation process to recover monies for RCL's customers, as it promised to do last year. ®
Updated to add at 09:27 UTC 5 February
An Indiegogo spokesperson told us: "Indiegogo is continuing the process of trying to recoup backer funds. We support any effort to recover funds for backers, either through the liquidation or other venues."
["source=theregister"]