NEWS
The Incredibly Brilliant Way People Are Now Paying for Things in Asia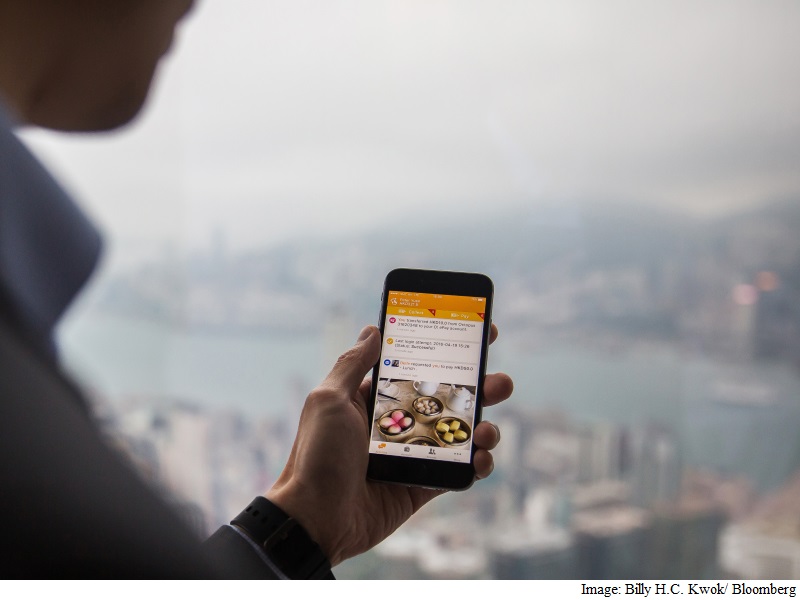 When Apple first rolled out Apple Pay in 2014, it was billed as a simpler way to buy goods and services. You take your phone out, tap it to the credit card reader, and off you go. Seems convenient, right?
But some consumers in Asia think there's an even better way to pay.
In recent years, millions of people have grown accustomed to using messaging apps to communicate. Some of these apps now support person-to-person digital cash transfers. So the next step is pretty logical: Asian retailers have begun using these same messaging platforms to sell everything from clothing to hamburgers to train tickets. And as a consumer, you never have to leave the app to pay.
On the surface, this alternative sounds a lot like Apple Pay (or Samsung Pay, or Android Pay, etc.). But conducting real-life and online transactions through messaging apps stands to change retail like none these other services have. What we're seeing in Asia is the rise of mobile payments that run primarily on software, not hardware as we've tried to implement it here in the United States. And that simple distinction may be the key to everything from accelerating the spread of mobile payments to unlocking deep, digital interactions with customers in brick-and-mortar stores to democratizing e-commerce away from giant online businesses like Amazon.
Before we get much further, here's how the technology works. Mary Meeker, an influential partner at the venture capital firm Kleiner Perkins Caulfield and Byers, released her annual analysis of Internet trends Wednesday.
To buy a meal with WeChat, which in China goes by the name Weixin, customers simply pull up a QR code in the app that's connected to their credit card or other financial account. Once the cashier scans the code, that's it – no further action is needed. Retailers in China will typically offer discounts to WeChat users as an incentive to pay with the app.
It doesn't sound like many retailers support this technology yet, judging by blogger Stephen Millward's first-hand tests. But it's still early, and WeChat's parent company, Tencent, says users have already linked more than 300 million credit or debit cards to the payment platform. Many of these people are probably waiting for the chance to start using this payment method in a more meaningful way – and if not, they're at least potential adopters who could be convinced.
But that's just the tip of the mobile commerce iceberg. In other countries, some people have gone so far as to do whole Amazon-style transactions from their messaging apps.
Over at Rude Baguette, Mark Bivens explains in detail what's going on. Enterprising businesses in Thailand have essentially turned Instagram into a digital storefront, where in their bio they list their account names for a popular messaging app called Line. Sometimes, even individual photos on Instagram will be location-tagged with the business's Line handle. This makes it easy for customers to find those businesses on the messaging app, and the rest of the transaction – from product selection to payment – takes place from there. Retailers have been known to provide personal customer service over Line because of the app's natural support for one-to-one messaging, according to Bivens.
"The platform has emerged as arguably the most trusted channel of interaction outside a physical encounter," he writes. "I've even heard of cases where people send LINE photos of bank transfer confirmations to provide proof of payment: this almost suggests that people trust LINE more than the credit card processing infrastructure!"
While switching from Instagram to Line may sound somewhat cumbersome right now, it's easy to imagine somebody coming along and streamlining this into a single payments or messaging app, reducing the number of steps. The important point here is that people are gravitating to this approach even despite the ad hoc, MacGyver-y implementation. What if an ambitious Silicon Valley developer set his or her mind to improving this set-up?
Setting aside the obvious security implications for a minute, this approach to buying and paying for things is completely foreign to the West. And it has the potential to change a whole lot about how we experience retail. It's not just another way to check out; it opens up deep, novel ways for customers to interact with stores, while businesses get to take advantage of scale (WhatsApp has over a billion users) and lower infrastructure costs. Unlike attempts by Apple and Samsung to create demand for their mobile payments platform, what we're seeing here is the organic development of a mobile payments ecosystem that's more user-focused, more accessible and more self-sustaining.
In the United States, Apple Pay and services like it have done a tremendous thing in trying to cut down the use of credit card swipes. It boosts security, because many credit card readers can be hacked to steal your card number as your card is passing through. But consider the costs: Apple had to spend lots of money developing a sophisticated mix of hardware and software that ultimately became Apple Pay. Apple had to go around convincing individual businesses to adopt the technology, and even then it still required retail outlets to update their payment infrastructure to support it. Most of all, Apple Pay is another thing that consumers themselves have to learn to use. I don't mean to pick on Apple; the same is broadly true with any of Apple's competitors in this space.
In contrast, a payment system that revolves around messaging apps seems like a no-brainer. For one thing, it's where consumers already are – so you don't have to convince them to try a new, unfamiliar service. But it's also favorable for businesses' adoption, too, because it costs them hardly anything to sign up for an account on third-party software. If anything, retailers may already be there for branding purposes, just as they've spread to Instagram, Twitter and Snapchat.
For many Americans, the term "mobile payments" has meant literally using our phones – the actual blocks of metal and plastic – to check out, usually by way of radio chips embedded in the device. In Asia, "mobile payments" is coming to mean paying for real-life goods on or from the phone, almost exclusively by way of software.
To the average consumer, this may sound like a subtle difference. But it's an incredible idea with huge implications.
© 2016 The Washington Post
["source-ndtv"]