CLOTHING
KFC launches finger-lickin' good clothing and home decor line
If you're a fan of all things fried chicken, then you'll love KFC's new clothing and home decor line.
Yep, you read that correctly. KFC has released a limited-edition selection of socks, t-shirts, and a whole bunch of other random bits and bobs you never knew you needed in your life.
The finger-lickin' goods on offer cater for a wide range of tastes and budgets. Starting at US$8 for a pair of fried chicken socks, the most expensive item is a one-of-a-kind US$20,000 Zinger meteorite.
"Sculpted by the harsh elements that exist in the vastness of space (and then later by three artists named Haley, Scott, and Mike)," reads the product description, "this Zinger chicken sandwich-shaped meteorite has all the Zinger chicken sandwich-shaped details you've come to expect from the Zinger chicken sandwich."
READ MORE:
* KFC has released fried chicken inspired chocolates for Mother's Day
* Review: We put the KFC candle to the sniff test
* KFC offers 'extra crispy' fried chicken-scented sunscreen
Sadly, it's no longer on the menu, having already been snapped up – presumably by a true chicken tragic.
"KFC and Colonel Sanders have been American pop culture icons for more than 70 years," KFC US director of media and digital Steve Kelly said in a statement.
"Our fans were craving a way to embrace the fried chicken lifestyle, and KFC Ltd gives them the opportunity to let their colonel flag fly."
Along with an impressive range of t-shirts and sweatshirts you can also purchase a necklace, a skinny tie modelled on the Colonel's iconic look, a "delicious" pocket square or a set of enamel pins.
Customers also have the opportunity to rest their weary heads next to the Colonel, courtesy of a pillow. So if that's on your (KFC) bucket list, well, you're in luck.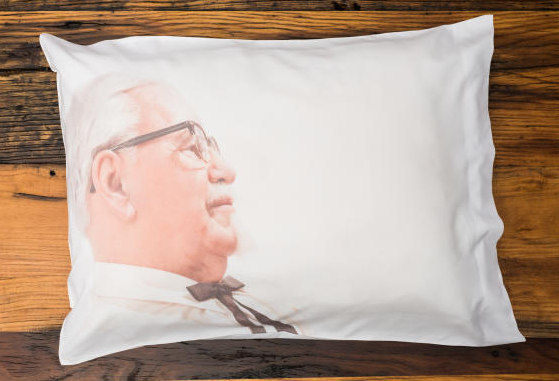 Cuddle up to the Colonel on this pillow from KFC's new clothing and home decor line. PHOTO: KFC
Not keen on sleeping with the Colonel? Why not hang him on the wall instead with a US$30 piece of art.
"There's no point in having walls if you don't have art to put on those walls," the website counsels of a bargain-priced print.
"But it shouldn't be just any art. It should be art that inspires you. Art that makes you feel something. Art that features an entrepreneurial Colonel in his natural habitat or maybe some of said Colonel's delicious-looking fried chicken and biscuits."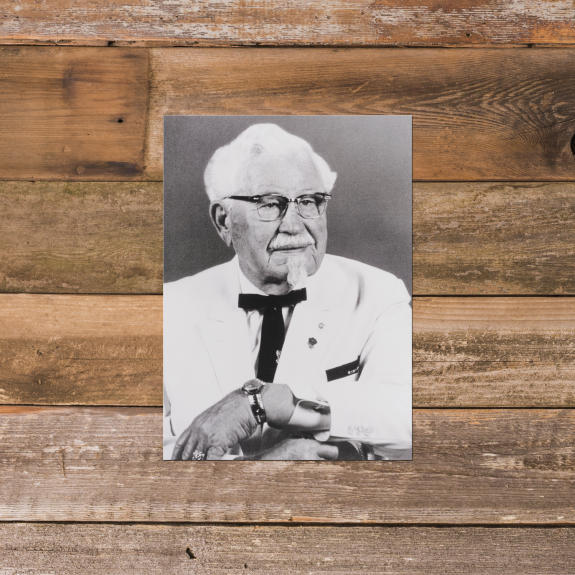 You can even hang the Colonel on your walls. PHOTO: KFC
If your favourite drool-worthy item is already sold out, don't stress – the people at KFC HQ have your back.
They also include detailed instructions on how to DIY items so you're not left empty-handed.
To make an order and browse the entire collection, visit KFC Ltd.
Given KFC has already released chicken-flavoured nail polish and chicken-scented sunscreen, we can only wonder what on earth they'll come up with next.
Source:-stuff.