NEWS
Microsoft Surface Hub Finally Starts Shipping to Business Customers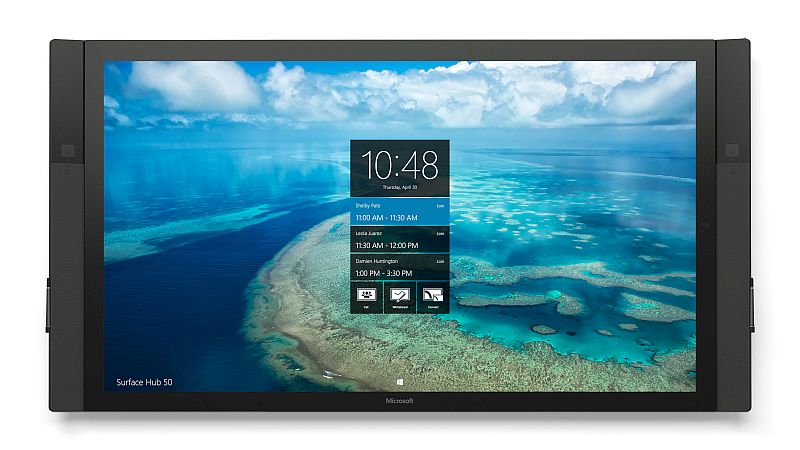 Microsoft's Surface Hub, which is aimed at bringing collaboration to the conference room, has been so far delayed twice by the company. Microsoft on Friday however confirmed that the Surface Hub has begun shipping to business customers.
The company touts the Surface Hub to be an innovative conference room computer which comes with an integrated conference room PC that allows a user to hold video conference with Skype for Business while using the display to view and collaborate using OneNote and Office apps. It runs Windows 10.
To recall, Microsoft after unveiling the Surface Hub in January had noted that it would begin taking pre-orders for the large computers on July 1, and begin shipping on September 1, 2015. The company later delayed the shipping date to January 1, 2016. It had then revised the shipping date to Q1 2016. At the same time, Microsoft also revised the pricing of the Surface Hub models. At the time of unveiling, the 55-inch Surface Hub was priced at $6,999 (Rs. 4,63,000), and the 84-inch model fared at $19,999 (Rs. 13,24,000). The company later announced that the 55-inch Surface Hub would cost users $8,999 (Rs. 5,96,000), and the 84-inch model at $21,999 (Rs. 14,57,000).
One of the highlights of the Surface Hub that it comes with a 'one-touch meetings' feature, allowing users to join and invite collaborators on video calls with a single tap. It also allows users (including those video conferencing) to share slides or other information from different devices and the cloud. The various slides of the presentation along with annotations made during the meeting can be saved as images to Microsoft's OneNote application and emailed to participants later. After the meeting is over, users can tap on the button 'clear it' to reset the Surface Hub to its default state for the next meeting.
The Redmond giant unveiled the Surface Hub displays last year and claimed that the company designed the device from the "ground up" for the best collaboration.
Download the Gadgets 360 app for Android and iOS to stay up to date with the latest tech news, product reviews, and exclusive deals on the popular mobiles.