CLOTHING
New men's clothing store launches in The Meadows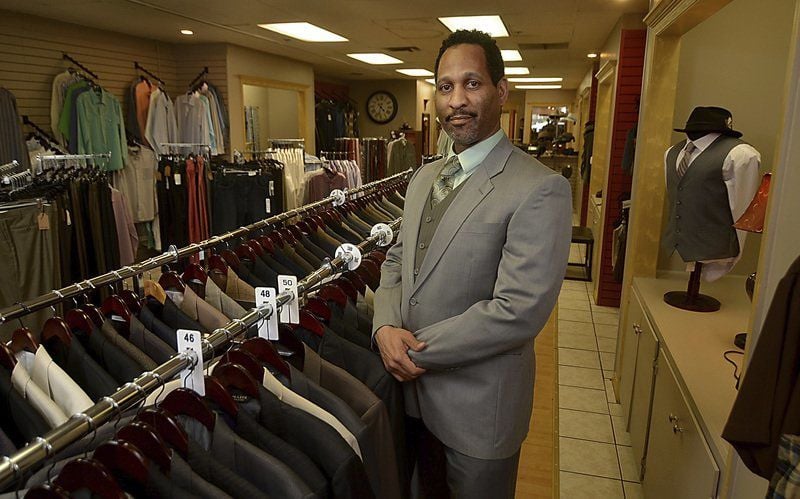 Tony D. Brewer Sr. enjoys good clothing.
It's one reason he decided to start his first business venture with a men's clothing store at The Meadows shopping center. His store name: The Classic Man.
Brewer's business was the first new store to sign on at the newly owned and managed shopping center on Terre Haute's east side.
"With my current job, I have situations where I need to dress up a little bit, but I have developed a passion for dressing nice. I think it comes with maturity, but it is something I like seeing," Brewer said.
Inside the store, next to the dressing room, hangs a large framed photograph of five boys sitting or standing on the hood of car on the south side of Chicago in 1941.
"Look at the picture, these five young men look better than any fellows you see here in town. This gives alternatives to the sagging and unkempt way," Brewer said.
Brewer stocks new clothes he obtains from retail store suppliers or overstocks from Chicago to St. Louis.
However, as a small store owner, he does not special order. What's available is on display, in a wide variety of brands, including Donald J. Trump, Van Heusen, Michael, Banana Republic, Calvin Klein and Chaps.
There are no prices on the clothing, just sizes. That's because everything in the store has a set price — shirts are $15; ties $7; slacks $20; jackets $39; two-piece suits $49; and three-piece suits $59 to $99.
"I like vests and am trying to sell that to Terre Haute. You see a lot of vests in Indianapolis, but here, not so much but I am not giving up hope," Brewer said.
His store also has a seamstress, Barbara Kraus, who operates a custom sewing and alterations business. "She will custom fit and have the suit back in four to five days," Brewer said.
Brewer now lives in Indianapolis and mainly works in surrounding counties to the state's capital city, but he has connections to Terre Haute.
Brewer, 48, earned a bachelor's degree in criminology and a master's degree in criminal justice and public administration from Indiana State University. He served as athletic director at Terre Haute South Vigo High School from mid-2008 to January 2011. He currently is director of services for east region for Hamilton Center, overseeing Hamilton Center sites in Clay, Putnam, Hendricks, Marion and Owen counties.
The father of six, Brewer said the store has family support, as his daughters helped to paint the store's interior and clean the floors for the store space that once housed a hair salon. His mother volunteers at the store, opening it each morning, while his son, Tony Brewer Jr., manages the store as a salesman. Brewer Sr. works in the store on weekends.
Brewer admits that it "was perfect timing" to open his store as he was researching locations and contacted Gordon "Gordy" Bryan, one of the new owners of Meadows Development of Terre Haute LLC, which purchased the shopping center in November, 2017. "There is enthusiasm and a rejuvenation of The Meadows," he said.
Additionally, Terre Haute's history of men's clothing store is well known to Brewer. Terre Haute has been home to previous men's stores including Bachrach; Herm Rassel Mens' & Ladies' Fashions in downtown Terre Haute; and Schultz Big & Tall and downtown store.
In fact, his mother Denise Gard, recalls working at Schultz's downtown store in the 1970s. "It was at 4th and Wabash. I made $1.80 an hour," Gard said.
The Classic Man opened Feb. 10 in The Meadows, but like other new stores at the shopping center, will be part of a grand reopening slated for mid May.
The list of new tenants at the east side mall includes The Market @ Repeat, formerly known as Repeat Boutique, and Darrell's Diamonds which are now open.
Some other new tenants will include Ace Blind and Drapery; Meadows Cafe; A to Z Construction; One America; as well as Crossing the Jordan Ministries and Harvest Prayer Ministries, each located in the lower level of the shopping center.
["Source-tribstar"]