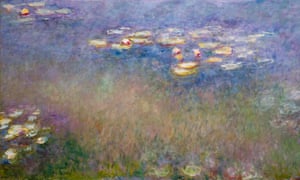 Renoir painted Monet painting his garden in 1873. The two pictures hang next to each other at the start of this exhibition. With their abundance of red dahlias and creamy clouds, their blue-shuttered houses and soft summer light, each painting looks remarkably like the other – except that where Renoir portrays his friend, Monet is nose-deep in the blossoms. "Perhaps I owe it to flowers," he said, "that I became a painter."
This startling statement appears in large letters in the opening gallery, as well it might, for there is no doubting whose show this is. Gardens and Monet are such a heady, coffer-filling combination that it would be extraordinary if the Royal Academy stinted on Monet's visions of the gardens he created at Argenteuil, Vétheuil and Giverny, but what's marvellous is the way these paintings are planted at intervals all the way through the show until they build to a grand finale at the end – a spectacular vision of water lilies, and of modern art.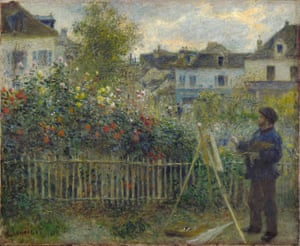 Monet was not alone in digging, planting, weeding and pruning, and then painting the results. Many of his colleagues – Renoir, Pissarro, Bonnard and Cézanne – were gardeners too, and the argument of this show is that the growing fashion for gardening in the 19th century is reflected in the avant-garde art.
It doesn't look that way in every gallery, it must be said. So many of these profusely coloured borders look much the same and very traditional – dots of bright pigment floating in a haze of greenery, which is how painters have been describing the optical experience for centuries. And it is curious that many of these men (only two women are represented) take little interest in the form and character of individual plants, so that poppies look like dahlias, which look like peonies, which look like roses, which look like poppies.
The captions frequently indicate nasturtiums, but only one painter, Gustave Caillebotte, comes close to conveying their wildfire spread and colour, their tissue-fine frailty on such spindly stems. He paints them from above, as it seems, and drifting on a sea of mauve so that one sees anew their particular strangeness.
Caillebotte painted a garden path slicing across the picture plane, pale gold in the grilling French sunlight. Frédéric Bazille has another, stealing away from the deep dark shadows beneath a tree to the back door of a house, as if to suggest some kind of dangerous liaison. One of the least familiar painters here, the SpaniardSantiago Rusiñol, shows the gardens of Monforte at dusk, the last rays of the sun igniting the archways in the evergreen hedges as the marble statues glow brilliant white in the twilight. The painting, like the garden, feels like a film set.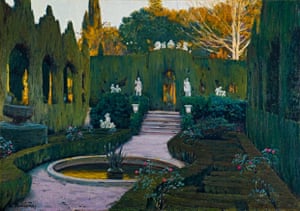 But there is a tension to this show. The curators want to woo the gardener from first to last: so there are 19th-century seed catalogues, horticultural specimens, cucumber frames and hothouse cupolas; real plants even bloom under cover. You may consult the detailed letters Monet wrote to one of his (six) gardeners for tips, and sit on teak garden furniture to watch a film of the master painting among the ponds at Giverny.
And gardening takes precedence over art at times – Childe Hassam is surely here only to show what American coastal planting looks like, and likewise Joaquín Sorolla's trailing geraniums, which may be fetching but are botanical hackwork. Every kind of garden is represented – rose, herb, cottage, vegetable, knot, all the continental varieties – and anyone who loves white gardens will be in heaven with so many glimmering scenes of pale hydrangeas and white lilies.
But what about the premise, what about modern art?
Matisse barely makes it into this show, and neither does Van Gogh, so often out there among the blossoms. The two Paul Klees are dark, knotted and eerie. Munch's painting of a rampant apple tree taking over the landscape is superb, and it is wonderful to see Pissarro's warm-hearted painting of people actually getting down to work, hoeing and hauling. Like William Nicholson's grave commemoration of Gertrude Jekyll's old boots, this is one of the few images that alludes to gardening as actual hard work.
But then the narrative turns to imaginary gardens and the show really flowers. Here are Klimt's chrysanthemums and petunias rising up in the form of a spectral bride-like figure, and Van Gogh's hectic celebration of a garden at Auvers, painted just before his death, in which every pulsing mark radiates with life. The curators have managed to borrow a vast diptych by Edouard Vuillard in which dreamy figures are almost melting into a garden that is itself melting into a faraway landscape. Sultry, secretive and mysteriously pale, the image is hypnotic.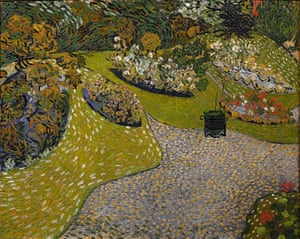 But nothing can compare with the gardens of Monet, of course. And this show has so many of his works: white and yellow water lilies holding and reflecting the changing light; the bridge over the pond at Giverny, repeated in the water, over and again, at different hours of the day. There are those ravishing visions of the water at dusk, deeply darkly blue, carrying the last inklings of light in gauzy brushstrokes.
In old age, Monet said he took more pride in his garden than his art, and perhaps that is why the three-part panorama of water lilies reunited for the first time in decades at the climax of this show is so overwhelming – so magnificent. The bank has gone. All you see is water, flower, foliage, reflection, light, on and on, round and round. There is no up or down, no end to the beauty of these constellations of colour in liquid space and air. Monet's garden is beautiful beyond measure: his field of vision is limitless.
["source-theguardian"]