ALL DEALS
The Creepy, Inescapable Advertisements That Could Define Virtual Reality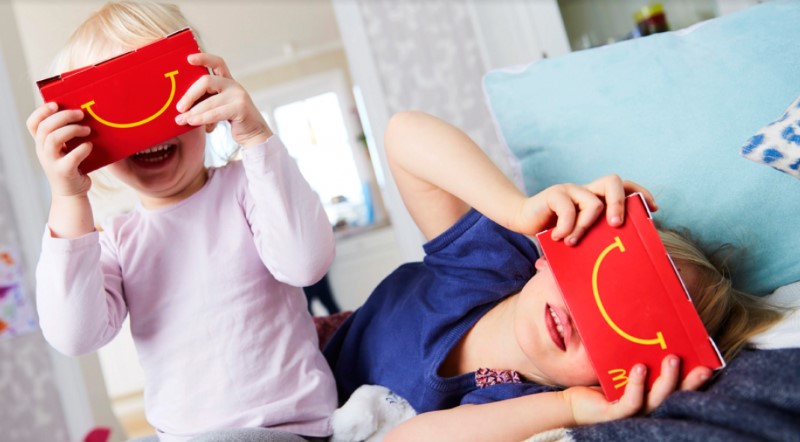 When cookie giant Oreo wanted to promote its latest flavors, its marketing heads decided to spice up its traditional TV ads with something not just new, but otherworldly: A virtual-reality-style fly-through of a whimsical, violet-skied fantasyland, where cream filling flows like a river and cookie pieces rocket past the viewer's head.
The 360-degree "Wonder Vault" animation allowed viewers to look around this world by turning their smartphone, moving their mouse on a screen or gazing through a virtual-reality headset. And many did: In the minute-long sugary utopia's two weeks of existence, it has enticed nearly 3 million YouTubeviewers – about as big as the 12-to-34-year-old audience for "The Big Bang Theory," the most-watched sitcom on TV.
"Look at the Cinnamon Bun world: There are cinnamon buns, but there are also ice skaters. It evokes that sort of emotional connection," said Elise Burditt, brand manager for Oreo North America. "It's all about taking people inside this world we've created . . . and back to that feeling of being a kid again."
As VR technology has rapidly grown more vivid, affordable and widespread, its artists and fans have championed the dramatic ways it could change movies, news, video games, on-the-job training and the creative arts. But many newcomers will take their first virtual steps via a more quintessentially American medium – advertising. And companies now are investing heavily in a race to shape those worlds to their design.
(Also see:  Coca-Cola Unveils VR Cardboard Headset for iPhone)
Six of YouTube's 10 most-viewed 360-degree videos over the last year promoted movies, events or other business ventures; the most popular, with more than 35 million views, advertised a "virtual reality raid" for mobile game Clash of Clans. (The other top videos featured mid-air stunts and women in skimpy clothes.)
Advertising could likely, as in TV and on the Web, form the financial backbone of VR's universe, and the technology's dazzling visuals, boundless worlds and captive goggles-wearing clientele have turned what once seemed like a passing fad into an advertisers' dream.
But that rush into VR ads and 360-degree videos – their less-involved technological cousins – means advertisers will likely define the platform before it hits mainstream audiences, much in the same way pop-up ads shaped the early Web, analysts said. And because the tech is still in its infancy, advertisers see few limits to their ambitions: What, for instance, will product placement look like when entire worlds are up for grabs?
David Berkowitz, the chief marketing officer at MRY, an ad agency whose clients have included Sony and Pizza Hut, said virtual-reality campaigns are "coming up in every client discussion," and with ideas that are "all over the map." But "most of the time (the idea) doesn't even make sense just yet," Berkowitz said. "It's as if advertisers are trying to make this vision of the future a reality before everyone's even ready for it."
The crude graphics and bulky hardware that defined VR in the '80s and '90s have given way to lush and stunning simulations that anyone can run on the typical new smartphone. Hardware makers sell devices like the $799 HTC Vive, which requires motion-tracking "base stations" installed along the walls. But casual users can experience VR by pulling up a video on their computer or tucking their phone into a cheap set of goggles like the Google Cardboard, which sells for $15 (roughly Rs. 1,000).
About 14 million VR devices are expected to sell worldwide this year, according to market researcher TrendForce, which projects VR app, software and device sales will soar to $70 billion (roughly Rs. 4,69,502 crores) by 2020. When in 2014 Facebook spent $2 billion (roughly Rs. 13,417 crores) to buy VR headset startup Oculus Rift, chief Mark Zuckerberg said he believed "immersive, augmented reality will become a part of daily life for billions of people."
Car companies, clothing lines and other corporate giants are spending millions on VR campaigns they insist are not advertisements, but "experiences," engaging enough to clench even the most distracted viewers' attention spans. And for marketers, the technology is enticingly immersive: Unlike with easily ignored TV commercials or banner ads, the only way to escape is to take the headset off.
Customers seem excited by the possibilities, too. In a survey last year, researcher Ericsson ConsumerLab asked which feature of VR seemed the most enticing. The top response – more than even immersive movies or video games – was the ability to "see items in real size and form when I shop online."
YouTube and Facebook opened the virtual floodgates last year when they debuted 360-degree and VR-style ads for companies such as AT&T, Nestle and Samsung. Since then, big companies have poured money into both VR centerpieces and the real-life nudges customers may need to enter their virtual worlds. McDonald's restaurants in Sweden this month are selling $4 Happy Meal boxes that can be folded into virtual-reality viewers, called "Happy Goggles," for a McDonald's-branded kids' skiing game.
Fashion and alcohol marketers have begun colonizing VR with the same promotional cool they've long splashed across glossy magazines. Whiskey giant Jim Beam dispatched promoters to 250 American bars with VR headsets that simulated floating down a river of its new Devil's Cut bourbon. In another stunt, Absolut Vodka hosted a rooftop concert in Brooklyn's trendy Williamsburg neighborhood, then sent out 5,000 pairs of Google Cardboard goggles to the band's nationwide fans, from which they could bob their heads virtually in the front row.
"In storytelling, brands are used to saying, 'Here's a 30-second spot, I'm going to get you from A to B and these are the messages I want to provide along the way,'" said Afdhel Aziz, director of the brand's VR skunkworks, Absolut Labs. "With VR, there is no A to B. . . . So you have to figure out, what is the narrative you're asking people to participate in? That's where the magic is."
Launching a VR-style production has become increasingly cheap, with 360-degree cameras such as the Ricoh Theta now on sale for about $300 (roughly Rs. 20,000). But the productions demand an incredible amount of resources: Executives at 360i, the agency behind Oreo's ad and a Toyota virtual teen driving simulator, said ads like the minute-long Oreo spot can involve up to 40 animators, musicians and other creators, and that campaigns can often take 6 to 10 weeks.
Virtual worlds' appeal for advertisers looking to stand out among billboards and banner ads is obvious, and some said it would do wonders to solve one of the advertising business' most vexing contradictions. "People are demanding more immersive experiences while, at the same time, everybody's attention span is shrinking," said Pierre Lipton, chief creative officer of ad agency 360i.
Executives say the ads increasingly piling into 360-degree video sites and VR app stores have tapped only a fraction of the tech's capabilities, from eye-tracking and personalization to full mobility in ad-soaked worlds. "As these prototypes are getting developed," said Layne Harris, 360i's vice president of innovation technology, "the first people jumping on them will be advertisers."
But critics said the rise of "experiential marketing" has ushered in overdone advertising for things that offer little experience: Oreo commercials, for example, that are 360 degrees of computer animation and zero actual cookie. After Boursin, a French cheese-maker, last year released a VR tour of chilled foodstuffs, marketer Nicholas Manluccia wrote in Advertising Age, "There is nothing inherently compelling about being trapped in a refrigerator with spreadable cheese."
VR ads risk nauseating their target market – Lipton, the executive whose agency made the Oreo ad, confessed the headsets still make him motion sick – and there are still glaring style problems to advertising on a device that Mad Men's Don Draper wouldn't be caught dead wearing. Bryan Rowles, executive creative director of 72andSunny, an ad agency that has worked with Samsung, Target and ESPN, said, "I don't think anyone will ever accuse you of looking cool with a VR headset on."
No one really knows whether VR viewers will, say, be more likely to buy a Volvo SUV after taking one for a "test drive" into the virtual sunset. The socially isolating influence of locking one's eyes and ears into a computer-generated world – what Berkowitz has called a "virtual prison" – will also demand changes from an industry geared toward viral ad-making and commercials designed for the whole living room.
That demand on attention could end up undermining the whole enterprise, some analysts said: Advertisers today struggle to get viewers to watch more than 5 seconds of an online pre-roll ad. But it's the real-life social isolation that might end up defining advertising in the age of VR.
After visiting the Mobile World Congress – where Zuckerberg's walk past a crowd strapped into VR headsets drew comparisons to a "Matrix"-style dystopia – Berkowitz said he found himself craving something he couldn't get from a cookie-filled imaginary world.
"After a little bit of that, I wanted to break free, go outside," he said with a laugh. Maybe that's an untold benefit of VR, he added: It might just "make people more social again."
© 2016 The Washington Post
Download the Gadgets 360 app for Android and iOS to stay up to date with the latest tech news, product reviews, and exclusive deals on the popular mobiles.