NEWS
Apple's 9.7-Inch iPad Pro: Portable, Powerful, and a Little Puzzling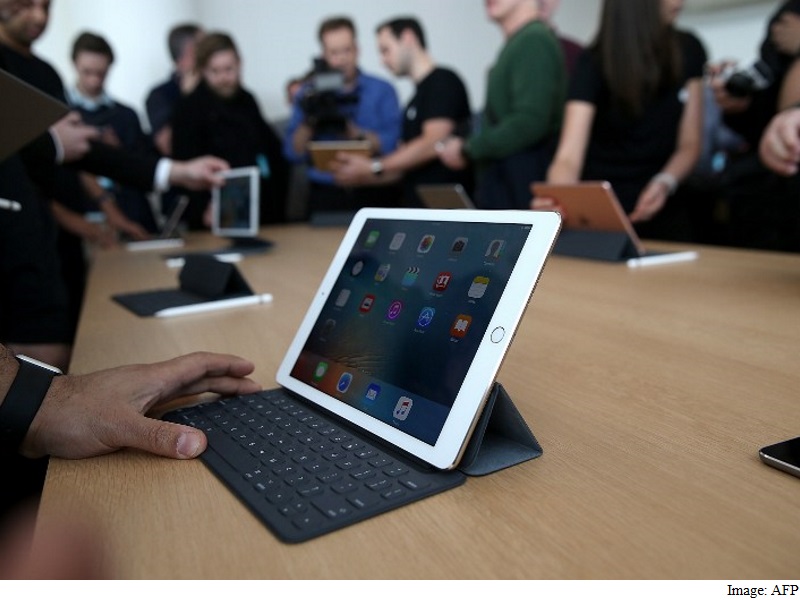 I had the privilege of spending some time with Apple's new 9.7-inch iPad Pro on Monday at the company's headquarters in Cupertino, Calif.
And, I admit, there isn't too much that's new to say. If you've used the larger, 12.9-inch iPad Pro, you're in for pretty much the same software experience here – at least, based on the brief time I got to spend with the new iPad Pro. It can run two main apps at once and supports the company's Apple Pencil stylus and smart keyboard.
The stylus worked the same way as on the larger tablet. The new iPad Pro responded quickly and reacted to the pressure from it. I also got to snap a quick picture with the new model's 12-MP camera – a perk not offered on the larger model – but didn't get enough time with that or the tablet's new "true tone" display to note a real difference from the first iPad Pro.
In terms of the device itself, it has the same size and feel as a standard iPad with the addition of a docking port for the company's smart keyboard. The tablet was lighter than the 12.9-inch iPad Pro, which is to be expected, but it is about the same weight as a normal iPad (which is also to be expected). In other words, as with the iPhone SE, on the surface, there wasn't much to say about the latest iPad Pro that hasn't already been said about other Apple products.
Still, while Apple may not be shifting the ground beneath our feet with this latest offering, there is an argument to be made in favor of this latest iPad Pro.
At least on paper, this smaller iPad Pro delivers on the potential Apple tapped all those years ago when it first introduced the iPad. The company has always framed the tablet as being a device for creation that sits somewhere between the Mac and the iPhone. But its somewhat limited function made it more likely to become a portable television. With the convenient size of a normal iPad and the function of the larger iPad Pro, the new model arguably has the potential to realize that old tablet promise.
But I'll need more testing to see how well it actually stacks up. As a market-watcher and Apple observer, this makes sense to me. As a consumer, I still need some convincing.
The larger iPad Pro, after all, also had – arguably still has – a lot of potential. But even though I may have liked that device as a bridge between my phone and my desktop while testing it, I still ultimately needed my laptop for everyday work. For me, a true laptop replacement needs to be able to run more than two full apps at a time. And that's not an option with any iPad, even this very advanced model. I liked the original Pro for basic tasks and would recommend it for anyone who draws or thinks more visually for his or her job. But I still found myself thinking wistfully of my laptop more often than I'd expected.
That said, there are a lot of people who like the size of the 9.7-inch iPad and want it to get a power boost. Time may have to tell on this one – at least, more time than you can have standing at a hands-on station in a crowd.
One thing is for sure: Those looking for new iPads will have a lot of decisions to make if they want a full-size tablet. If you go to the top of the line, to the larger iPad Pro, you get a lot of screen real-estate and support for the Pencil and keyboard but not the 12 MP camera on the smaller iPad Pro. The iPad Air is physically almost identical to the new iPad Pro, but it is cheaper and lacks support for the keyboard and pencil.
Your preferences will have to determine what's right for you, which is not necessarily a bad thing. Apple seems to be going for more niche audiences overall – a development we've seen more under the tenure of chief executive Tim Cook. That gives you more options but requires you to do more research. And right now, the new iPad Pro is just another addition to a family tree that's getting pretty complicated.
© 2016 The Washington Post
Download the Gadgets 360 app for Android and iOS to stay up to date with the latest tech news, product reviews, and exclusive deals on the popular mobiles.
Resolution
2048×1536 pixels
RAM
Battery capacity
See full Apple iPad Pro (9.7-inch) Wi-Fi specifications
ALSO SEE

iPad Pro Wifi+Cellular Tablet

₹ 88,999

Apple iPad Pro 128GB Cellular

₹ 90,900