COMPUTERS
THE BEST HOME OFFICE COMPUTER SETUP FOR YOUR SPACE AND STYLE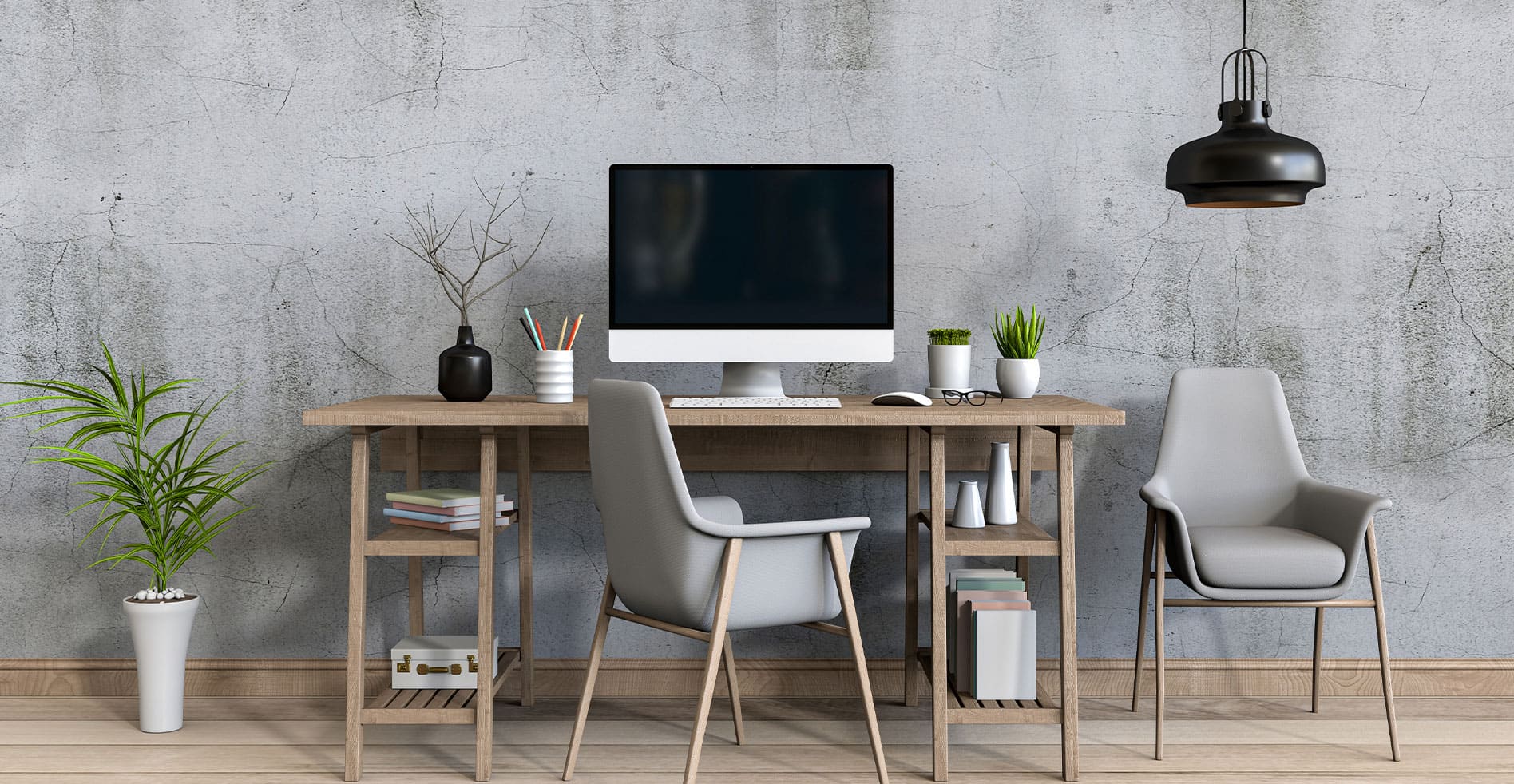 The global pandemic left plenty of long-lasting impacts, one being the shift towards remote work environments. Even as much of the world reopens, and more and more people are getting vaccinated, it's believed that remote work is here to stay for many organizations, even ones with large workforces, including Facebook, Microsoft, and Amazon.
As tempting as it may be to bring your laptop to your bed or couch, this usually doesn't make for a very productive day. Instead, you should designate a room or at least a desk space, and then take the liberty of making it as comfortable – or traditional – as you desire. The point is to have an organized space with minimal distractions so that when you're there, your mind is ready to focus. Let's discuss some ideas for creating your best home office computer setup.
HOME OFFICE SETUP CHECKLIST
Are dual monitors and Bluetooth headsets necessary? Are standing desks worth splurging for? That's up to you, but below we've listed some must-haves for your work from home space.
Laptop or computer with wireless mouse and keyboard
Computer desk or sturdy laptop stand
Ergonomic office chair with lumbar support
Secure Wi-Fi with router and network adapter
Nearby outlet for charger(s)
Storage space for print files
Hard drive or SSD for digital files
HOW TO SET UP A REMOTE WORK SPACE
Aesthetics and functionality start to come together in the following steps.
1. CONSIDER WORK AND MONITOR HEIGHT.
The average work surface is 29" or 30" high, comfortable for someone of average height. If you have a shorter or longer frame, you may want to consider finding an adjustable desk. The ideal height is when your forearms lay parallel to the ground, while your wrist is not bending when you type.
2. FIND ADEQUATE LIGHTING.
The proper lighting can have a tremendous impact on your workspace. Position your desk where you'll have sufficient indirect lighting through either a desk lamp or natural light from a nearby window. Make sure your desk setup is not in a direct field of view to avoid glares and reflections on your computer screen.
3. SET UP YOUR INTERNET CONNECTION FOR OPTIMAL PERFORMANCE.
Next, you'll want to search for a reputable internet provider and determine what service you'll need. Consider how many people will be using your internet when deciding what speed to go with. If you use video conferencing in your job, you should invest in an Ethernet cable for greater bandwidth.
4. CREATE A SPACE YOU ACTUALLY WANT TO WORK IN.
One of the most significant advantages of working at home is that you don't have to follow all the rules that come with a traditional office space. You can get as creative as you want, but ultimately, your space should make your workdays comfortable and productive, which will look different for everyone.
YOUR ULTIMATE HOME OFFICE DESIGN
Now comes the fun part! Once you have your essentials covered, it's time to begin thinking about how you want your space to look.
Minimalist
This setup is perfect for someone who loses focus quickly or prefers a clutter-free space. If you want to add a pop of something, consider picking up a succulent or an air humidifier to add to your office desk. Also, be sure to grab a cable concealer to hide any wired connections.
Cozy
This is not for the person who's prone to midday naps! But, if you can stay alert and want the added comfort, consider investing in soft pillows, blankets, rugs, and other pieces that will put you at ease while using your gadgets. Warm colors work well in a cozy space.
Computer-Savvy
Think web developer or IT specialist. These pros may benefit from a more elaborate monitor setup; ultrawide monitors, cable concealers, and a high-quality wireless keyboard and mouse. (Bonus tip: Apple users can make use of Mac OS X's to use multiple screens at once!)
Chic
As anyone with an eye for design will tell you, you don't have to shell out a lot of money to look stylish. In fact, you may have some decorative pieces around the home that could spruce up your space. Turn clay mugs into utensil holders, abstract art or books into decorations, and any pops of color for small or prominent statement pieces.
A home office can be whatever you want it to be. The important thing is that it enables you to get the job done!
It's almost important to stay well-connected. As you work from home, keep Computer Troubleshooters in mind for all of your residential support needs. We offer computer and network security to protect you against security threats, quick diagnostics and troubleshooting, and remote support. Get in touch with your local technology experts for help with your Mac, Dell, Asus, iPad, or other work device!
["source=technology-solved"]