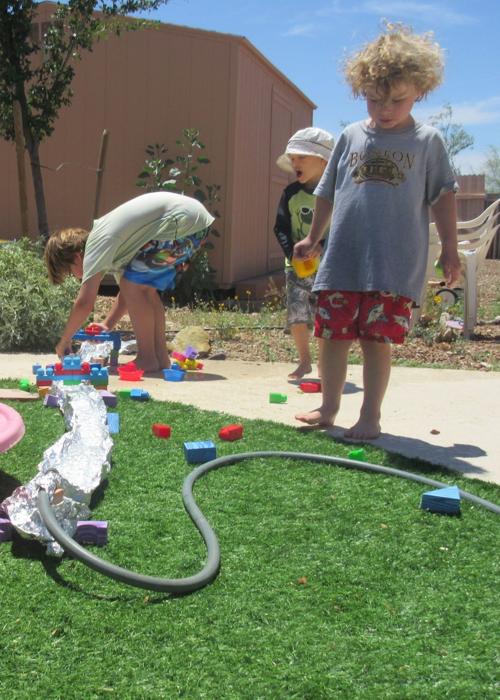 Mission Garden —  946 W. Mission Lane. A living agricultural museum of Sonoran Desert-adapted heritage fruit-trees, traditional heirloom crops, and edible native plants. 8 a.m.-noon. Wednesday-Saturday. Donations accepted. 955-5200.
Garden Tours — Pima County Cooperative Extension, 4210 N. Campbell Ave. The Pima County Master Gardeners are having free guided tours. 9-10 a.m. June 12 and 15. 626-5161.
Yarnivores — Murphy-Wilmot Public Library, 530 N. Wilmot Road. Bring a brown-bag dinner and join a group devoted to yarn art. 6-7 p.m. June 13. 594-5420.
Nature to You Presents: Water Play in the Garden — Marana Heritage River Park, 12375 N. Heritage Park Drive. Learn where water comes from by singing a water cycle song, reading local data, and pouring water on different surfaces of the Display Garden. Imagine with a fictional story, easy water games, and practical planning. Bring water-friendly clothes and a towel. Hydrating snack included. Class is taught outdoors. Ages 3 and up, accompanied by an adult. 9-11 a.m. June 14. $18.75. 382-1950.
Friday Fun Knitters — Foothills Mall Food Court, 7401 N. La Cholla Blvd. Knit or crochet while making new friends. All skill levels welcome. 10-11:30 a.m. June 14. 743-5273.
Living Lab and Learning Center Tour — Watershed Management Group, 1137 N. Dodge Blvd. Demonstration site for a variety of water harvesting and sustainable living practices for arid landscape living. Kids can enjoy the Raindrop Retreat, a children's playhouse featuring a rain tank, play kitchen with greywater, and sandbox. The tour takes place outside, so be prepared to be standing or walking for over an hour. 8-9:30 a.m. June 15. 396-3266.
Board Painting Workshops — Color Me Mine Tucson: Park Place Mall, 5870 E. Broadway. Cost of class includes all materials, vinyl stencils for text/picture and full instructions. Walk out of the class with artwork for the home. Choose a design from the Add On Menu. Designs are from $25. Custom Stencils are available for an additional $20. This class requires a 24 hour advance registration in order to have stencils available. Ages 15 and up. 6:30-8:30 p.m. June 15. $25. 790-1100.
["source=tucson"]